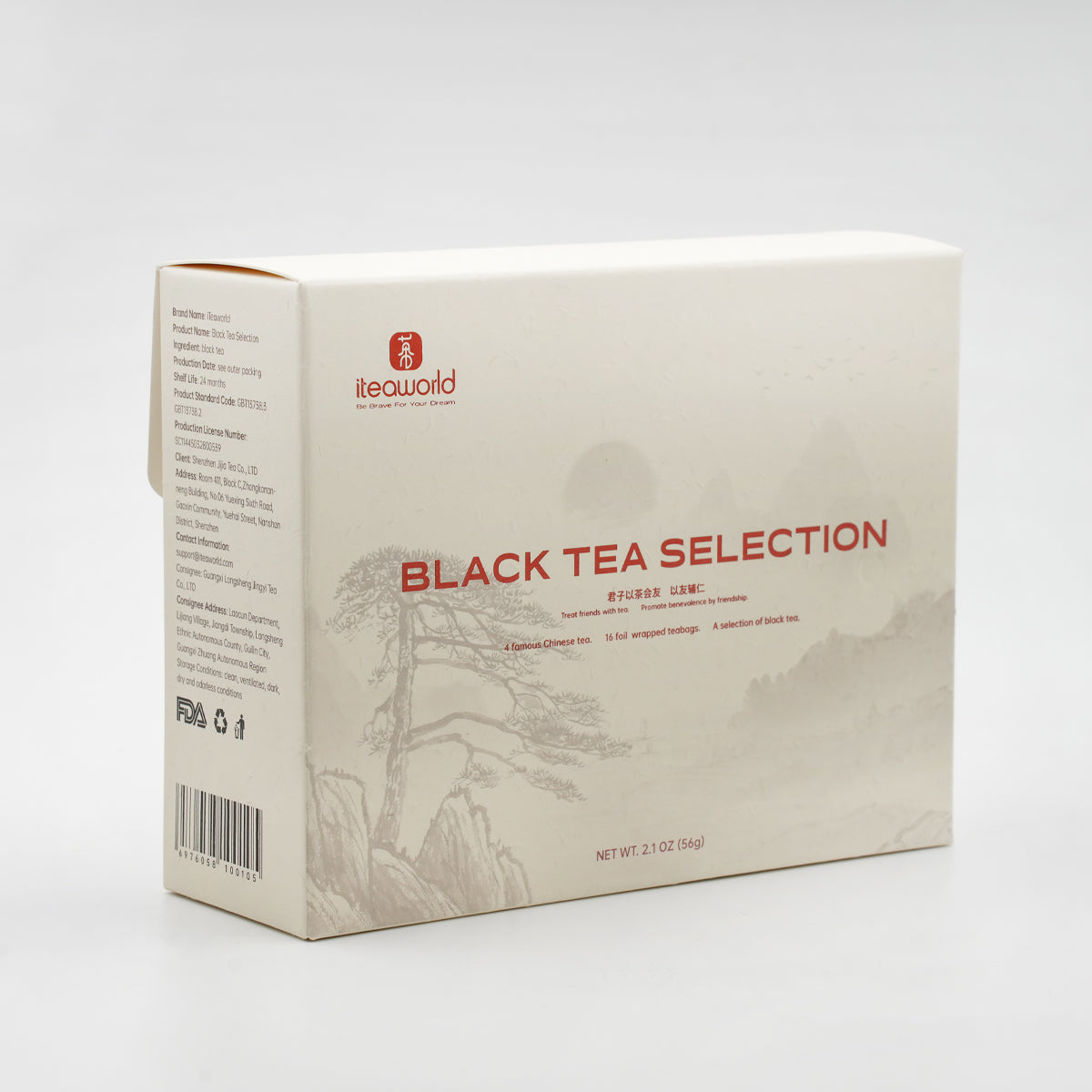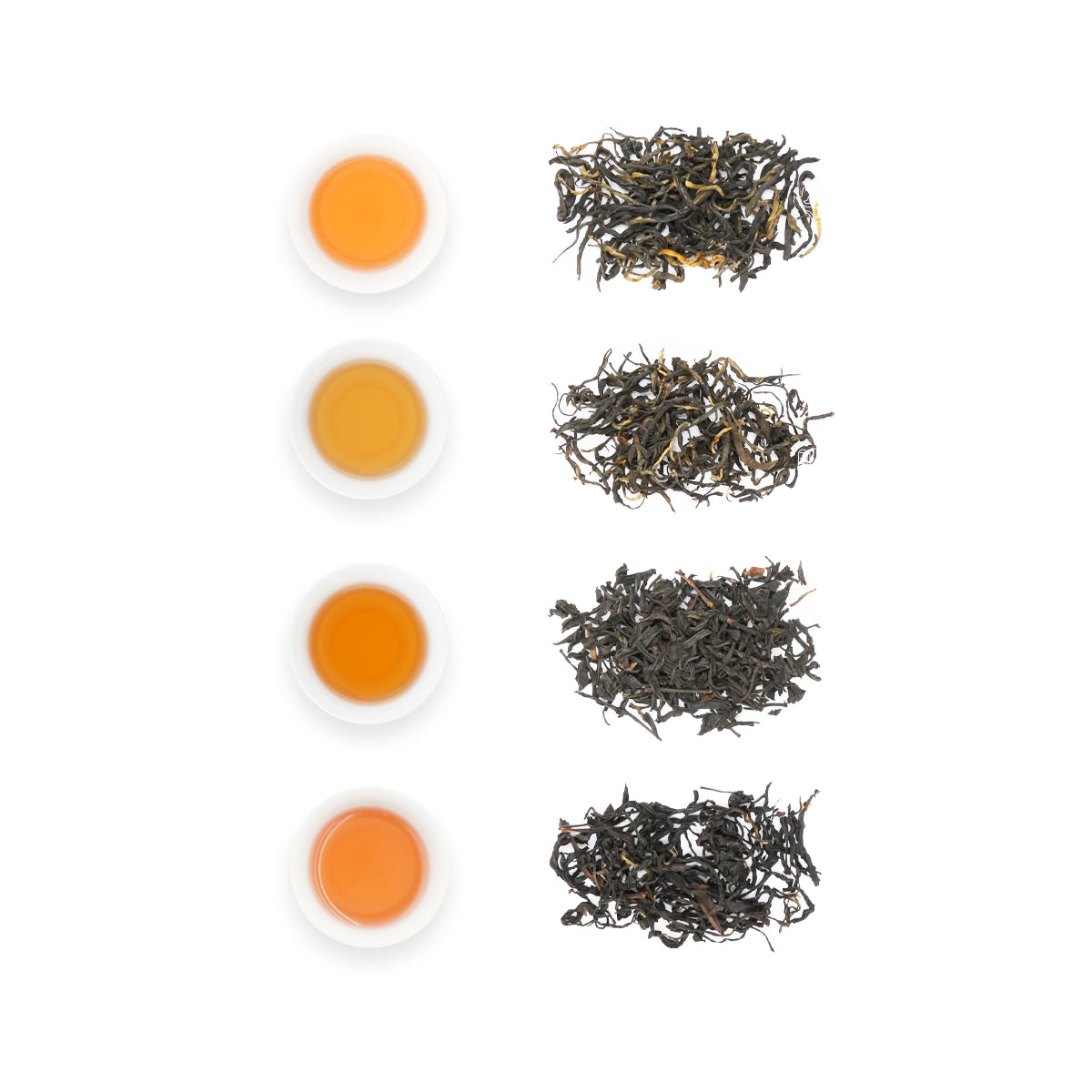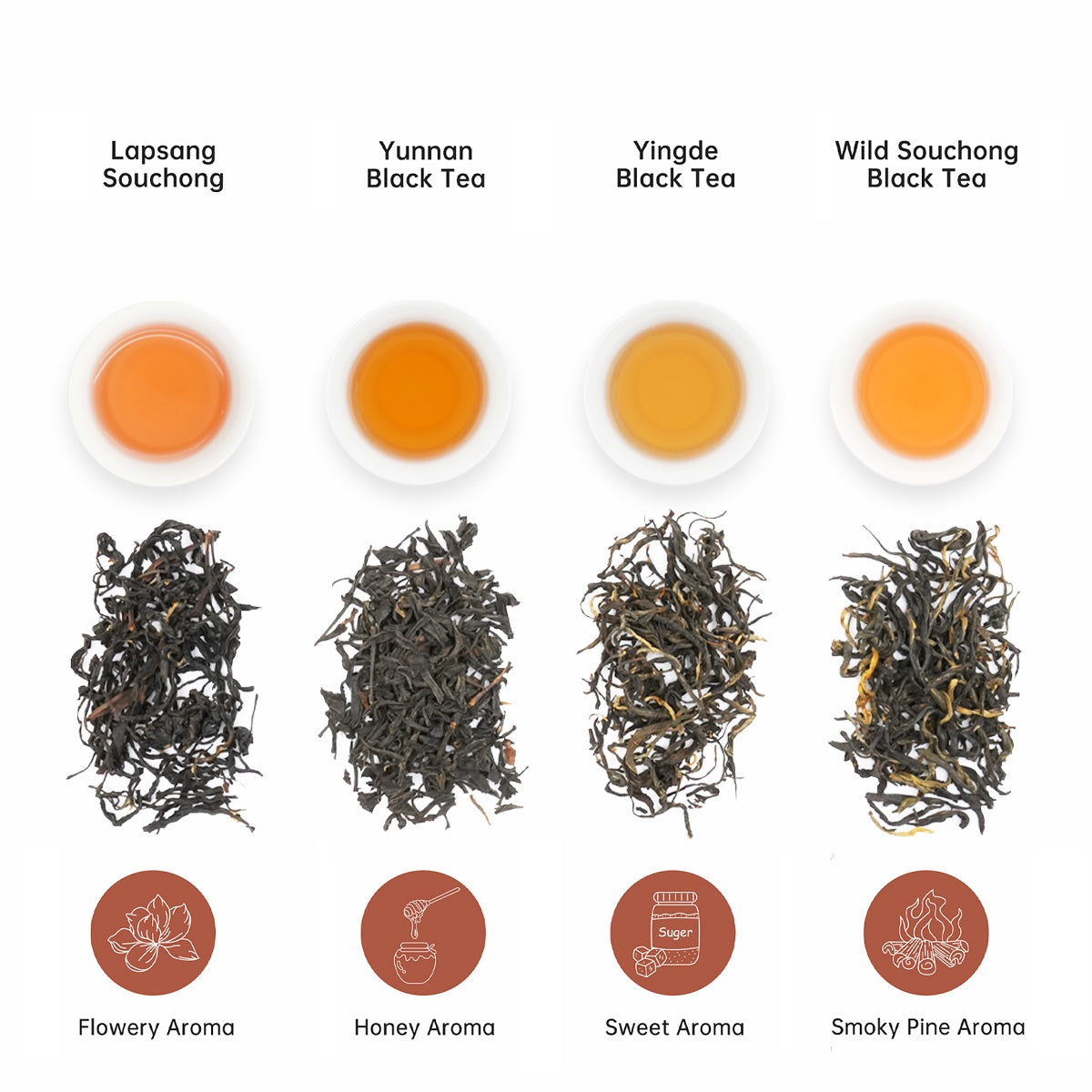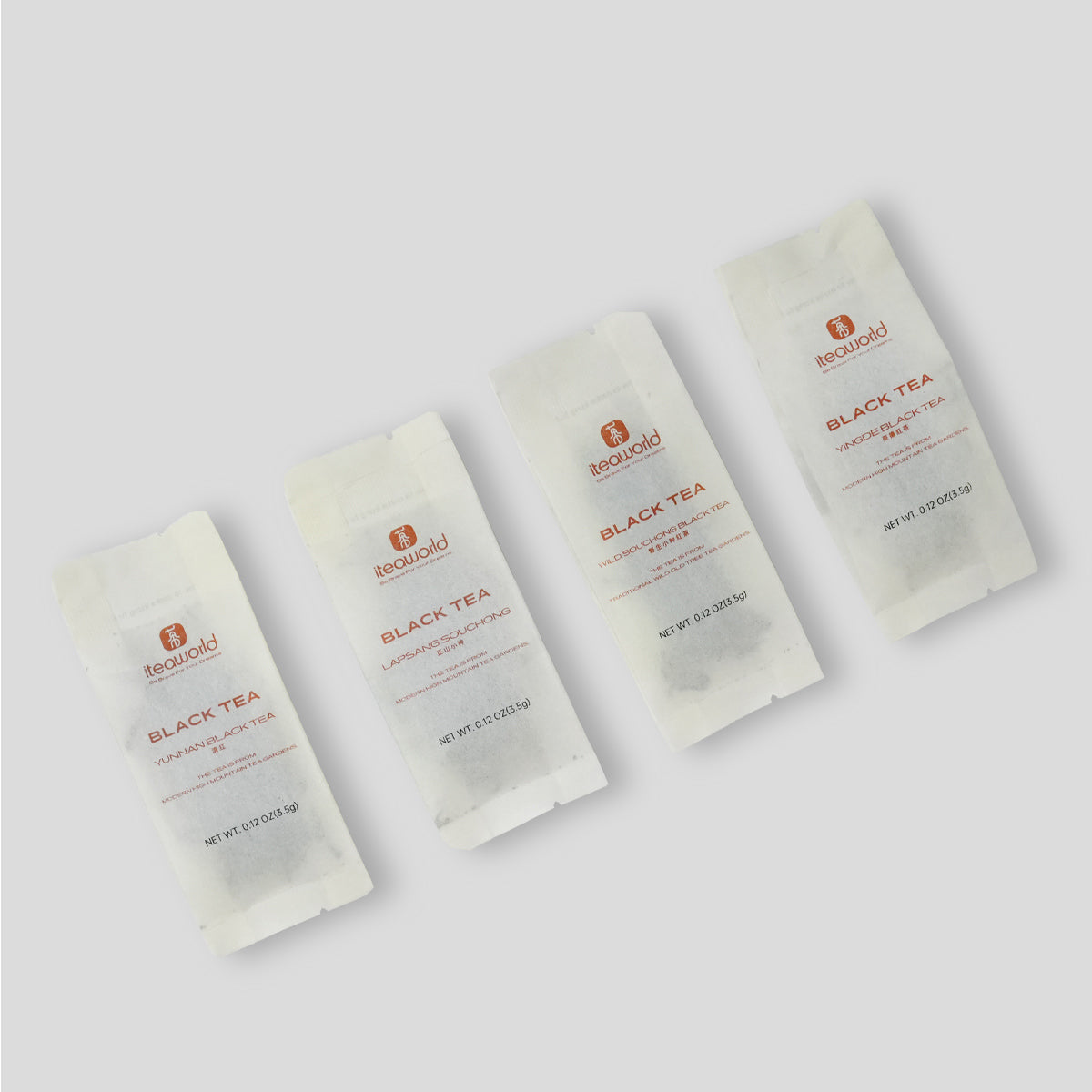 Black Tea Sampler
---
Gift: 20 Biodegradable Tea Bags, Loose Leaf Tea & Tea Bags at the Same Time
Indulge in our Black Tea Selection, a symphony of four distinct blends echoing the joys of dawn and the serenity of dusk. With each sip, envision the bustling mornings and tranquil evenings, creating moments of connection and warmth. An ideal gift, this collection invites both seasoned connoisseurs and curious beginners to experience the soulful tales within each tea.

Yingde Black Tea (3.5g) *4
Yunnan Black Tea (3.5g) *4
Souchong Black Tea (3.5g) *4
Wild Souchong Black Tea (3.5g) *4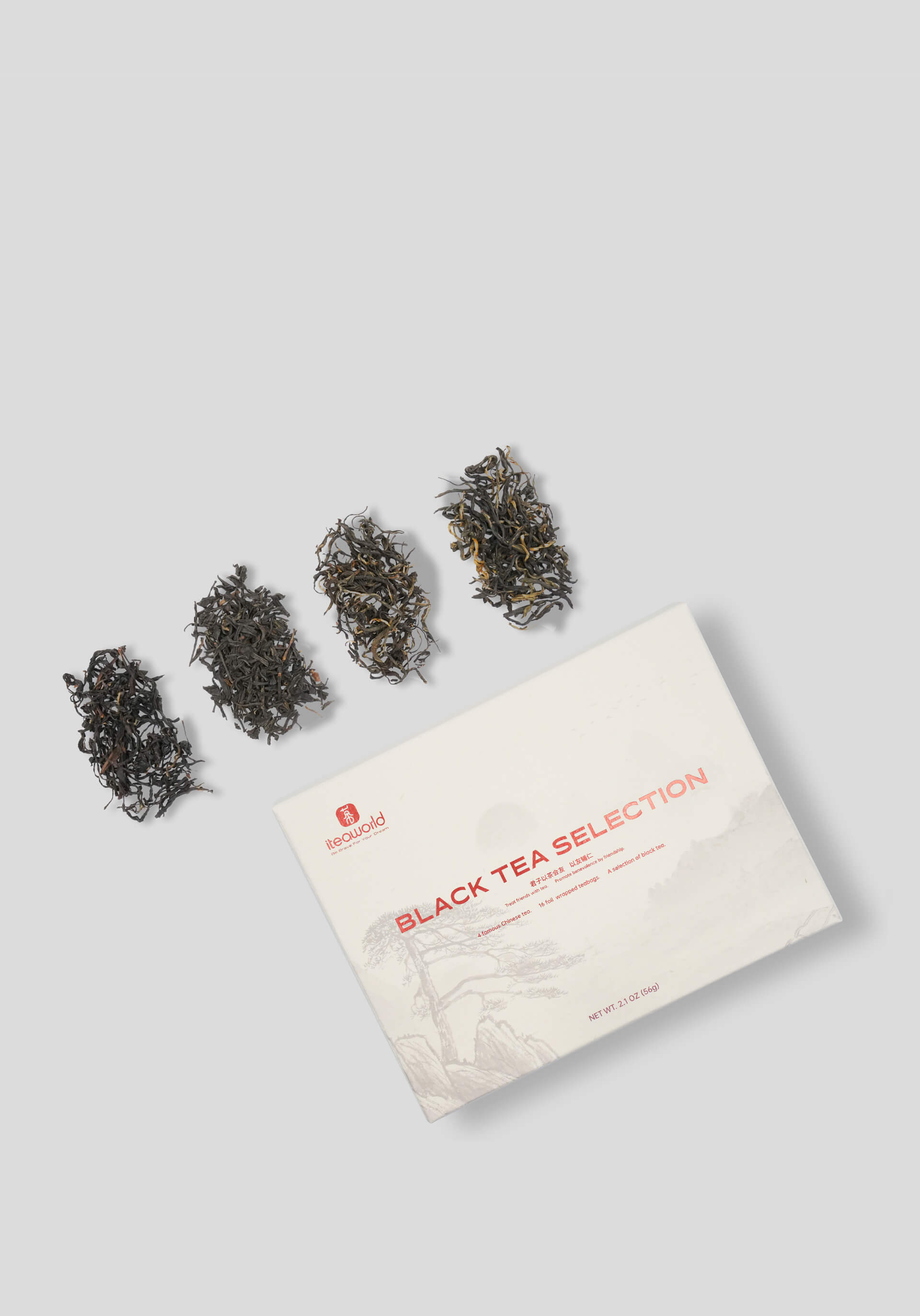 One Box Contains 4 Classic Chinese Black Tea.
Each Tea Is A Classic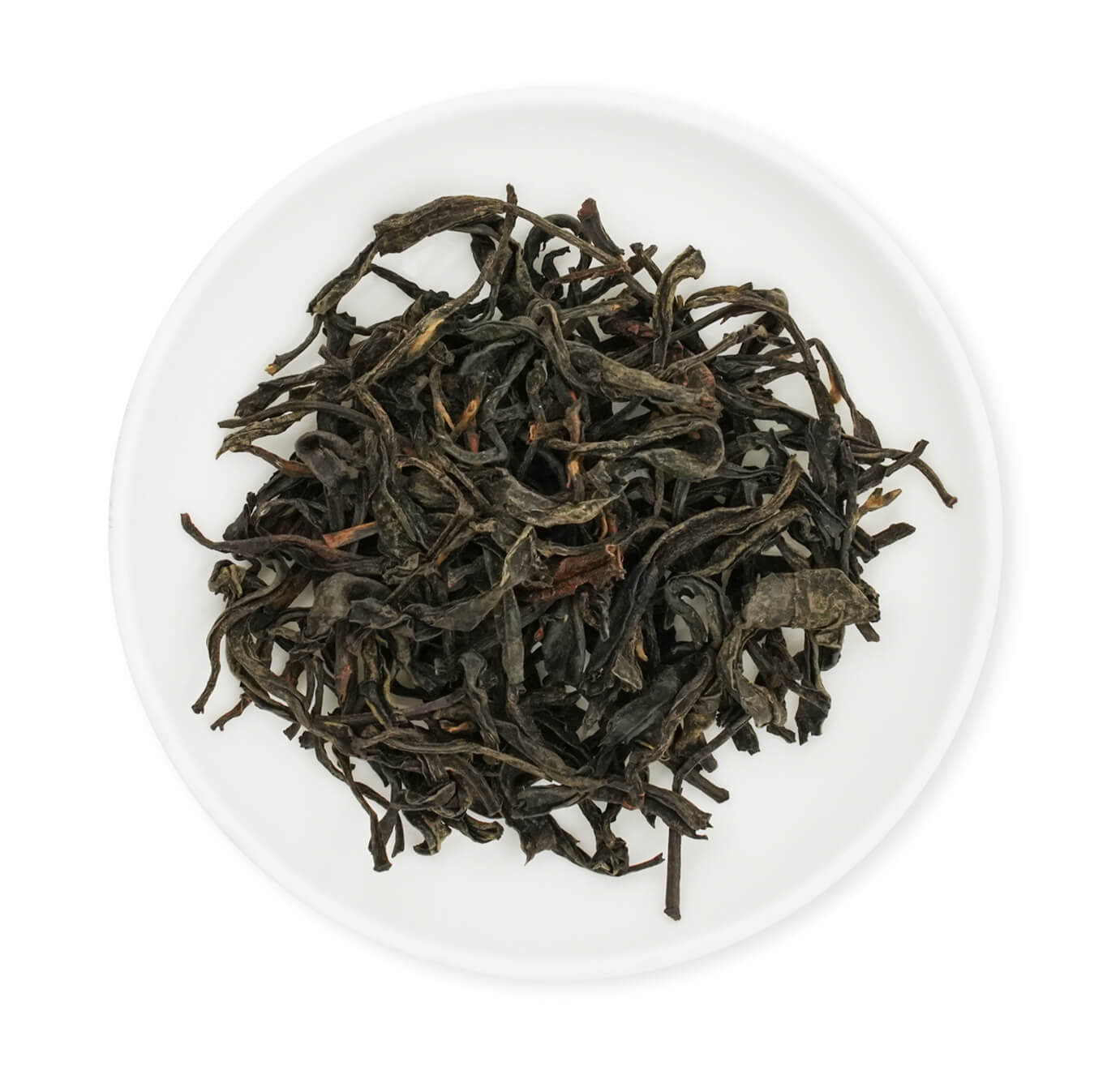 Wild Souchong Black Tea

The Oldest Black Tea.
Aroma: Smoky Pine Aroma
Taste Note: Smoky Aroma With Ripe Fruity Notes That Are Characteristic Of Black Tea. Flavors of Roasted Sweet Potatoes With A Smooth Texture. Will Remind You Of A Winter Campfire
Plucking Standard: One Bud With Two Leaves, Autumn,2022
Souchong Black Tea

A Modern Take on the Oldest Black Tea.
Aroma: Flowery Aroma
Taste Note: Unsmoked Lapsang Souchong Has A Subtle Floral And Sweet Flavor With A Rich And Smooth Taste
Plucking Standard: One Bud With Two Leaves, Autumn,2022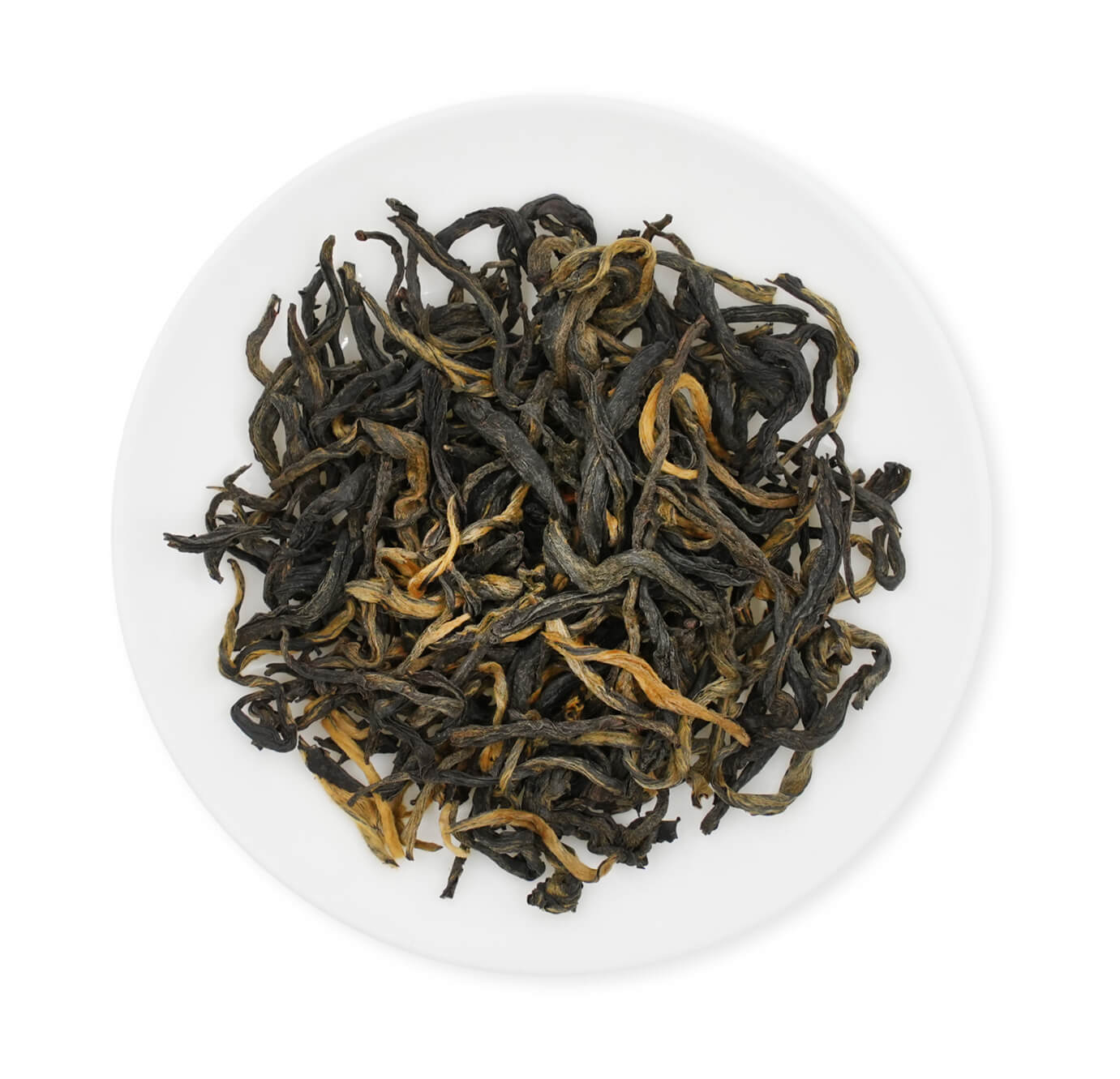 Yunnan Black Tea

The Strongest Tasting Black Tea in China.
Aroma: Honey Aroma
Taste Note: Rich And Smooth Flavor With Caramel, Malt Flavors, And Sweet Honey Aroma
Plucking Standard: One Bud With Two Leaves, Autumn,2022
Yingde Black Tea

One of the Three Major Black Teas in China.
Aroma: Sweet Aroma
Taste Note: Full-Bodied And Smooth, With Caramel And Cocoa Flavors. Satisfies Black Tea Lovers.
Plucking Standard: Mainly One Bud With Two Leaves, Autumn,2022
Experience Black Tea from Different Geographical Environments.
Each tea hails from its place of origin, guaranteeing authenticity. At iTeaworld, our commitment is to provide top-quality, genuinely Chinese loose leaf teas.
One Box for Tasting 4 Different Tea Flavors.
Savor four unique red teas, each boasting its own captivating aroma. From the floral hints of Souchong Tea to the honeyed essence of Yunnan Black Tea, the delightful fragrance of Yingde Black Tea, and the smoky allure of Wild Souchong Black Tea, each tea brings forth a different taste adventure.
Why Choose Us?
The founder of iTeaworld is a seasoned tea master with over 20 years of tea drinking experience. iTeaworld has been selling tea in China for more than 15 years and has its own tea gardens as well as trustworthy partners. Our tea collection is carefully curated through rigorous tasting by experienced tea specialists. iTeaworld prides itself on providing first-class customer service, including a 15-day full refund policy to ensure complete customer satisfaction. In addition, our commitment to environmental sustainability underscores our dedication to preserving the natural world.
Compare Black Tea with Different Oxidation Levels
Oxidation levels of Chinese black teas are in the 70%-90% range. Lightly oxidized, medium oxidized, and highly oxidized black teas are all within this range.
Lightly Oxidized
Fragrance: clean and refreshing aroma, honey aroma
Taste: sweet aftertaste, brisk
Tea soup color: orange
Medium Oxidized
Fragrance: honey aroma, fruity aroma
Taste: medium taste
Tea soup color: orange red
Highly Oxidized
Fragrance: fruity aroma, sweet aroma
Taste: mellow and thick, high sweetness
Tea soup color: red and brilliant
Taste Black Tea with Different Planting Methods.
High Mountain Tea Gardens:
High mountains veiled in mists and clouds. Rich soils with high levels of organic matter. Large temperature differences between day and night.
Abandoned Tea Gardens:
No pruning. Highly re-steepable. No chemical fertilizers and pesticides were used. Safer and healthier. More authentic. Older tea trees produce sweeter leaves.
Tea From Wild Tea Trees:
Sexually reproduced tea trees with well-developed root systems. Grow in its original ecological environment. Picked 1 flush a year.
There Are Other Ways To Enjoy Pure-Leaf Tea Than Drinking It Straight.
Protecting Nature, One Sip at a Time: iTeaworld's Pledge
iTeaworld has always advocated for green and environmentally-friendly principles. We use paper certified by the Forest Stewardship Council (FSC) and soy-based inks for packaging.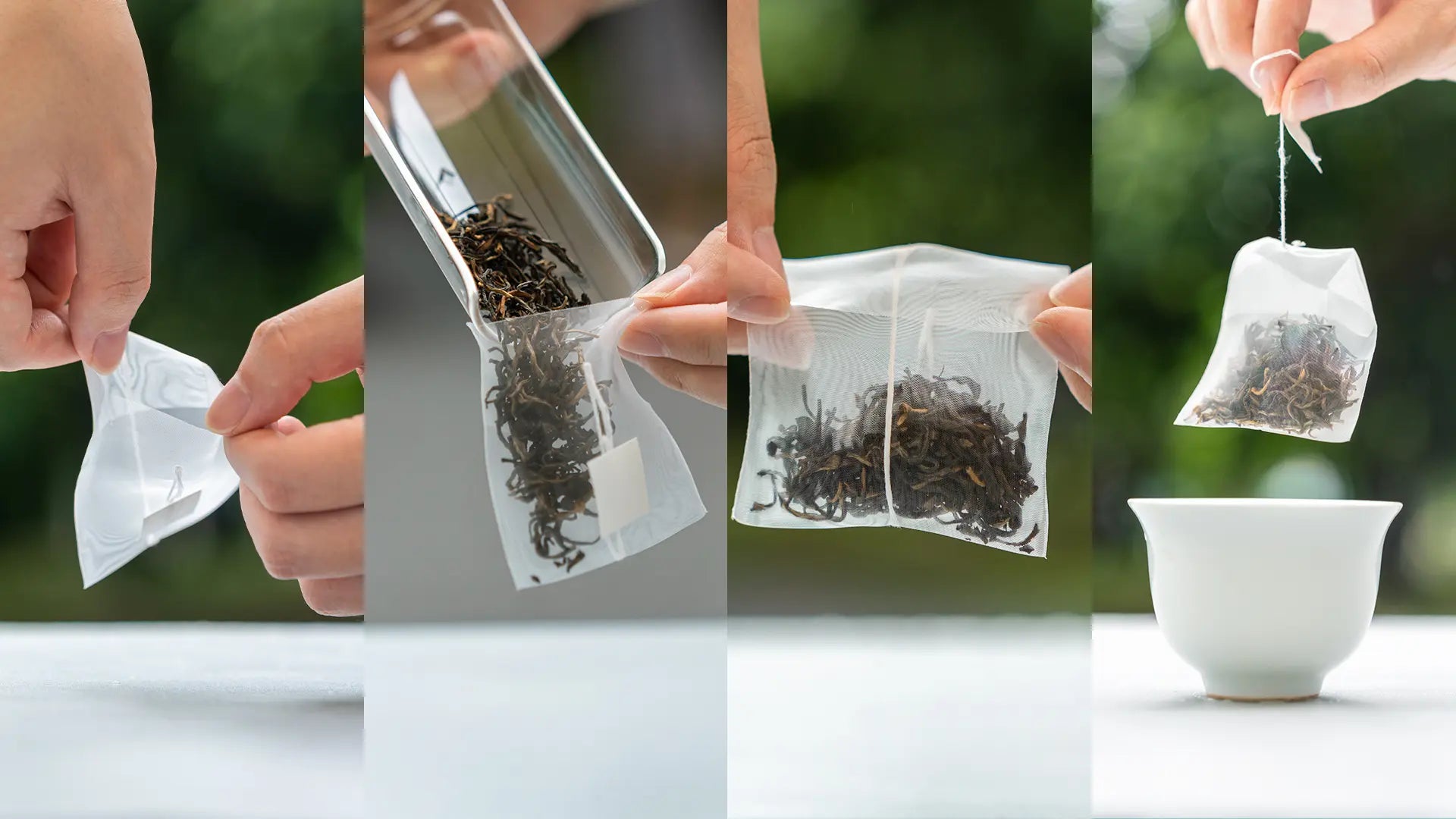 Complimentary Biodegradable Tea Bags
Complimentary Biodegradable Tea Bags – 20 Free Packs for You!
We're delighted to offer you 20 free biodegradable tea bags made from corn fiber. They're easy to use, flip the top part of the tea bag to brew. These tea bags are crafted from corn starch, safe for you, biodegradable, and environmentally friendly.
Sustainable Eco-Friendly Packaging
iTeaworld has always advocated for green and environmentally-friendly principles. We use paper certified by the Forest Stewardship Council (FSC) and soy-based inks for packaging.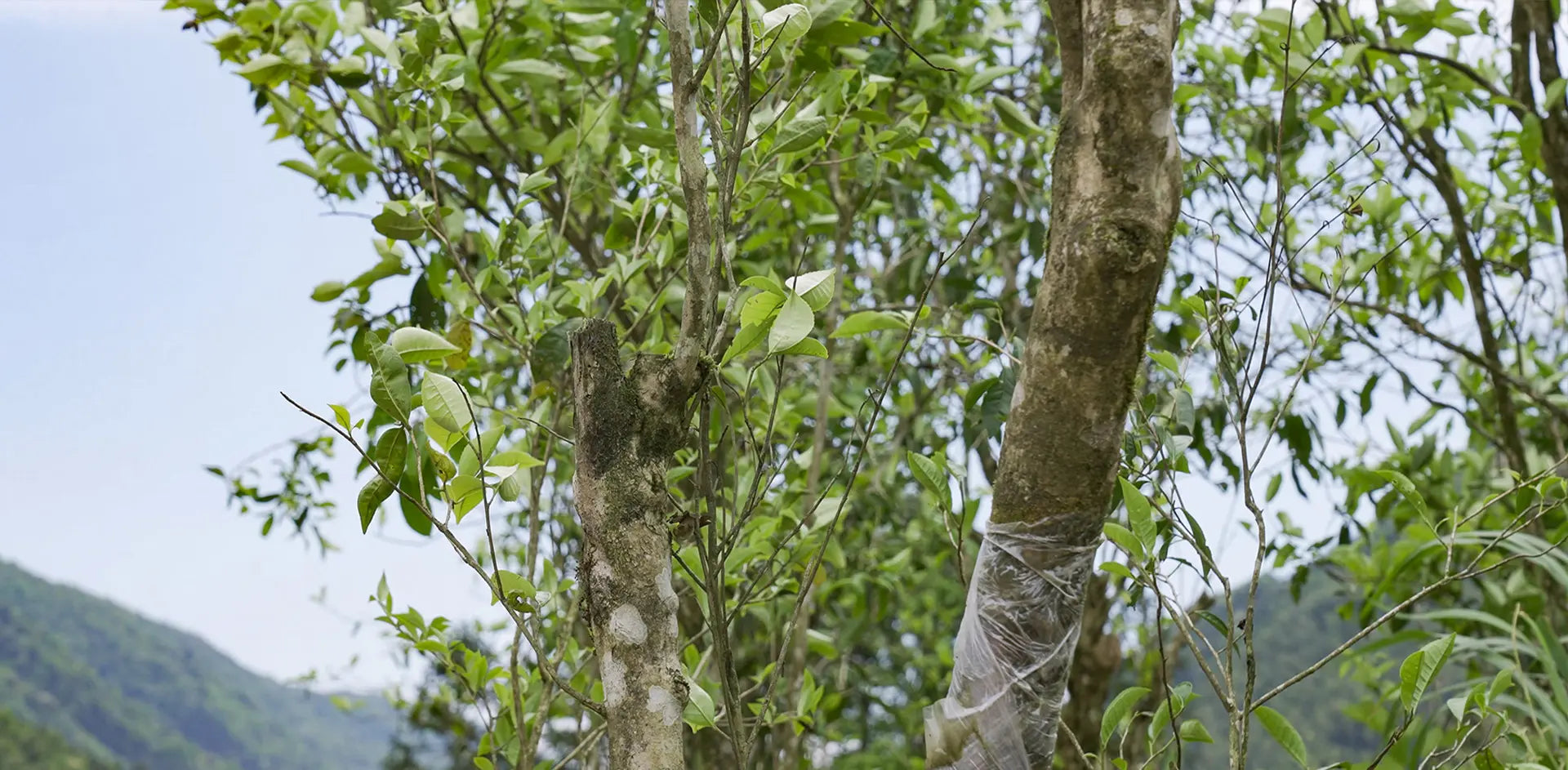 Preserving Centennial Trees: Our Commitment
Centuries-old trees facing pest damage and survival challenges. iTeaworld collaborates with Guilin Agricultural Bureau to establish conservation sanctuaries, transplanting and caring for over 3000 ancient tea trees.
Know More
Here Is The Key Information About The 4 Types Of Black Tea.
Brew It Correctly. Experience the Authentic Taste of Chinese Tea.
This product is rated 5.0 of 5.0 stars.
It has received 11 reviews.
Flavor
I enjoyed receiving the sample packets, they give the opportunity to taste the flavors that the tea really offers. I liked the flavor that I have been looking for in black tea, smooth and mellow.
Exploring iTeaworld's Black Tea Sampler:
This was an enjoyable selection of black teas put together by iTeaworld. I had never had the Wild Lapsang prior to this and felt it was a very enjoyable tea, as were the other options included in this set. I enjoy sample sets such as this and the others that they sell so you can get to taste the teas without the huge commitment of buying a whole lot of it before having tasted it.
An absolute treat - and a good gift idea too
This collection of loose leaf Chinese black teas from ITEAWORLD is a wonderful treat. Though I prefer oolong teas, the quality and flavor of these varieties of black tea is really good. There are 4 different teas and 4 waxed pouches of each - with the waxed paper helping to preserve the freshness until you're ready to brew. The leaves are whole, not chopped up. I followed the instructions to do an initial, very quick brew that's meant to wash the leaves, and then you discard the water and get fresh for the first true brew. For most of these, I was able to rebrew at least 4 more times by increasing the brew time. The flavor was reduced but still really enjoyable. The ability to rebew makes this a very good value. The packaging is nice enough to make a lovely gift for any tea lover. Highly recommended.
Flavorful teas with nice packaging
These black teas from ITEAWORLD are a nice way to try some traditional Chinese black teas. There are five envelopes of each of four varieties, packaged in a nice box with information and directions. I like that this company promotes sustainability and bringing more affordable teas to us. Be sure to read the instructions. These are meant to be prepared in the Gung Fu style, short steeping for one or two cups at a time, and the package says up to seven steeps. By short steeping, its about 45 seconds. Lapsong Souching is very smokey, as is yingde black. The Wild Souchung tea is malty, and the Yunnan is the mildest. This is loose leaf tea so youll need a strainer or a fillable tea bag.
Great high quality tea leaves ~
The tea leaves in the bag are whole, not mere bits and pieces. Each bag contains full leaves without any fragments. Upon brewing, the flavor is delightful. A single bag provides a generous portion, ensuring a satisfying brew. Even on the second steeping, the taste remains enjoyable, though slightly milder than the first. The tea is packaged in a box, which presents decently, making it a suitable gift option. Overall, I appreciate the quality and flavor of this tea.
This product is rated 5.0 of 5.0 stars.
It has received 11 reviews.
FAQ
We Promise Provide 100% Natural Loose Leaf Tea Without Any Extra Additions. No Sugar, No Gluten.
Feel free to contact us, we are always here to answer your questions!
Support Email: support@iteaworld.com
What's inside Your Loose Leaf Black Tea Selection Pack?

There are four handpicked selections of famous Chinese black teas
Yingde Black Tea (3.5g) *4
Yunnan Black Tea (3.5g) *4
Souchong Black Tea (3.5g) *4
Wild Souchong Black Tea (3.5g) *4
What Are The Benefits of Loose Leaf Black Tea

Black tea is rich in antioxidants and has been linked to various health benefits, including improved heart health, reduced cholesterol levels, and increased alertness due to its caffeine content.
Do You Have a Discount Right Now?

Limited Time Offer: We Are Currently Offering Free Shipping On Your First Order When You Sign Up!
What countries do you ship to and what is your return policy?

We support shipping to most countries in the world, including the United States, Europe, Russia, Asia and more!
Shipping time is around 5-14 business days
We support full refund if you are not satisfied within 15 days after you receive the tea, no need to return the tea.
We are confident in our teas and are happy to provide excellent customer service.