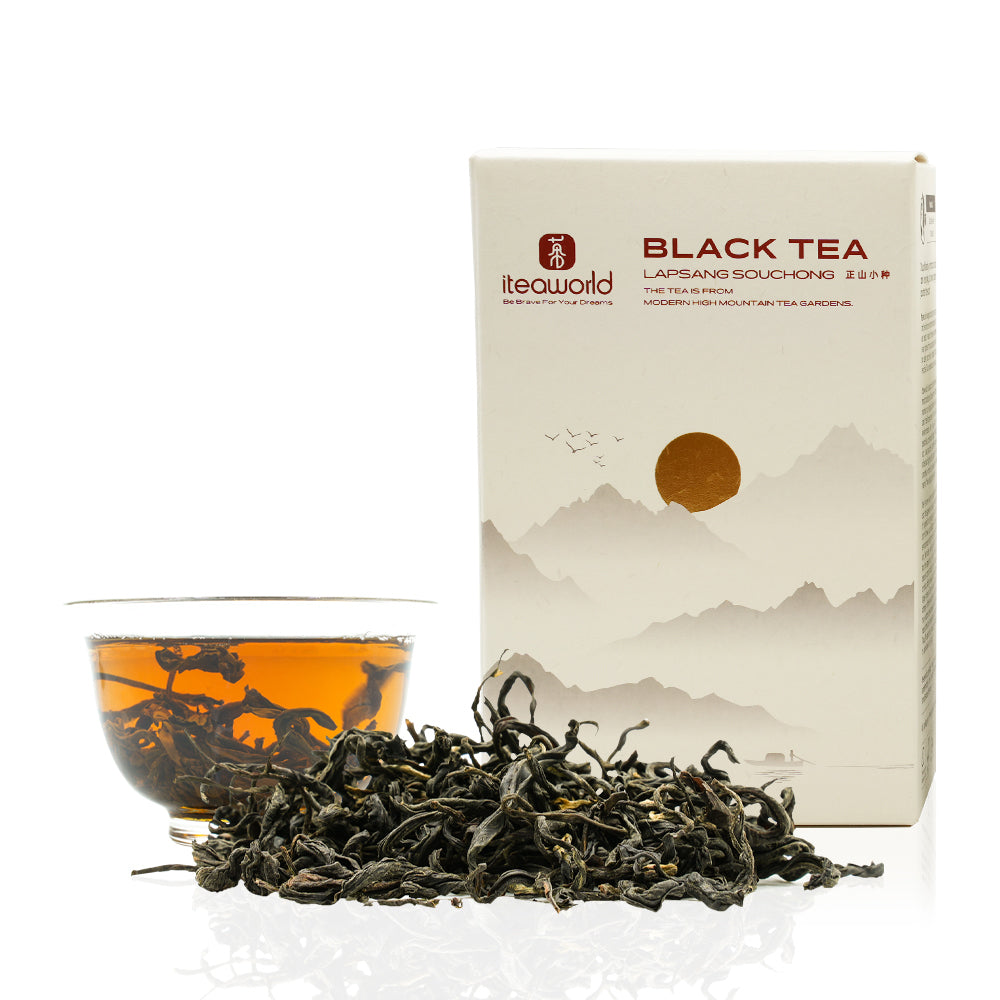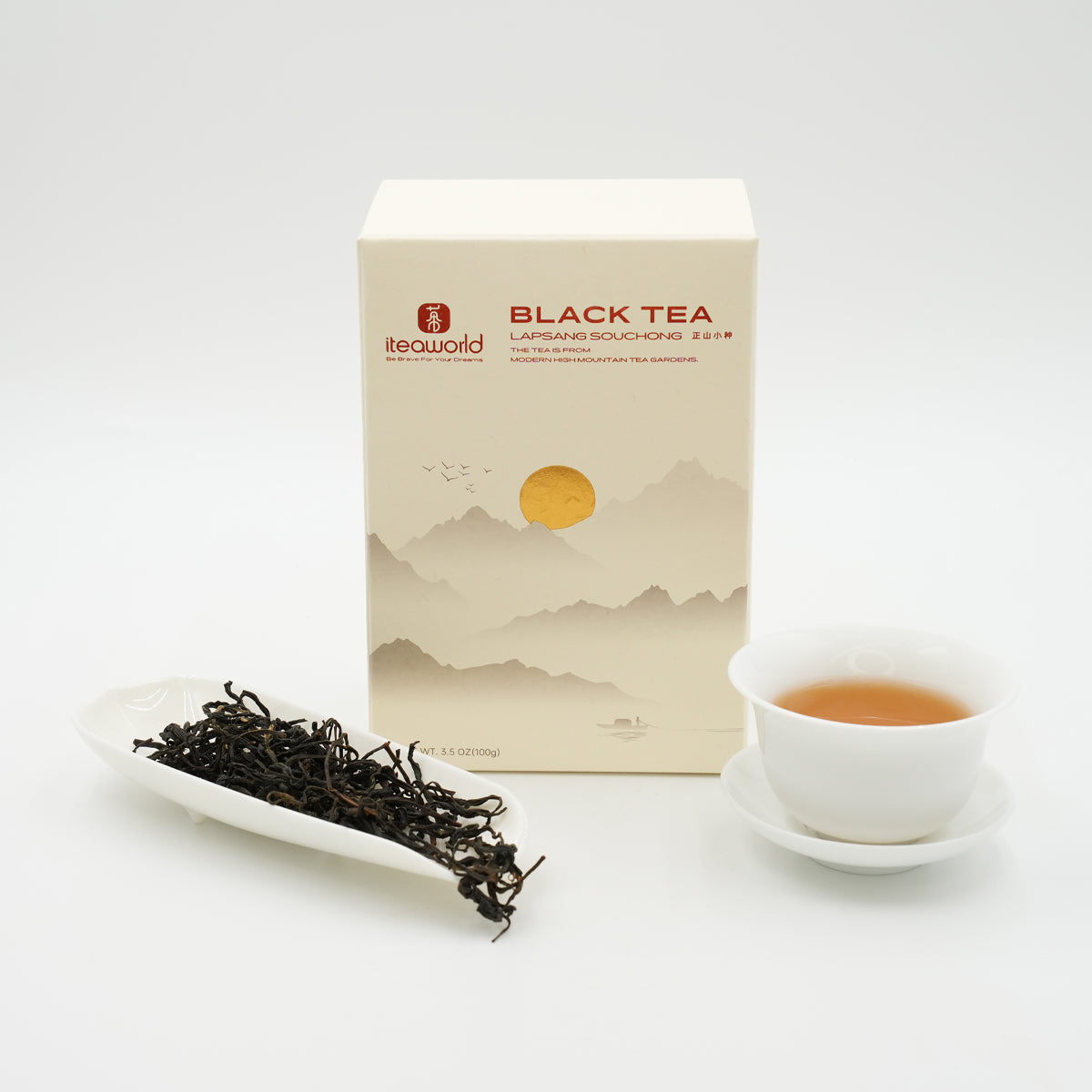 Souchong Black Tea
---
Indulge in the unrivaled charm of Smokeless Souchong, a masterpiece from the wild tea gardens of Guangxi. Revel in its smooth texture, where delicate fruity notes intertwine with a subtle sweetness, creating a harmonious symphony on your palate. Whether enjoyed during a serene afternoon or as a revitalizing break, this organic tea promises a truly authentic and soul-soothing experience.

Origin:
Daming Mountain, Xiyan Town, Shanglin, Guangxi, China
Taste Note:
Unsmoked Lapsang Souchong Has A Subtle Floral And Sweet Flavor With A Rich And Smooth Taste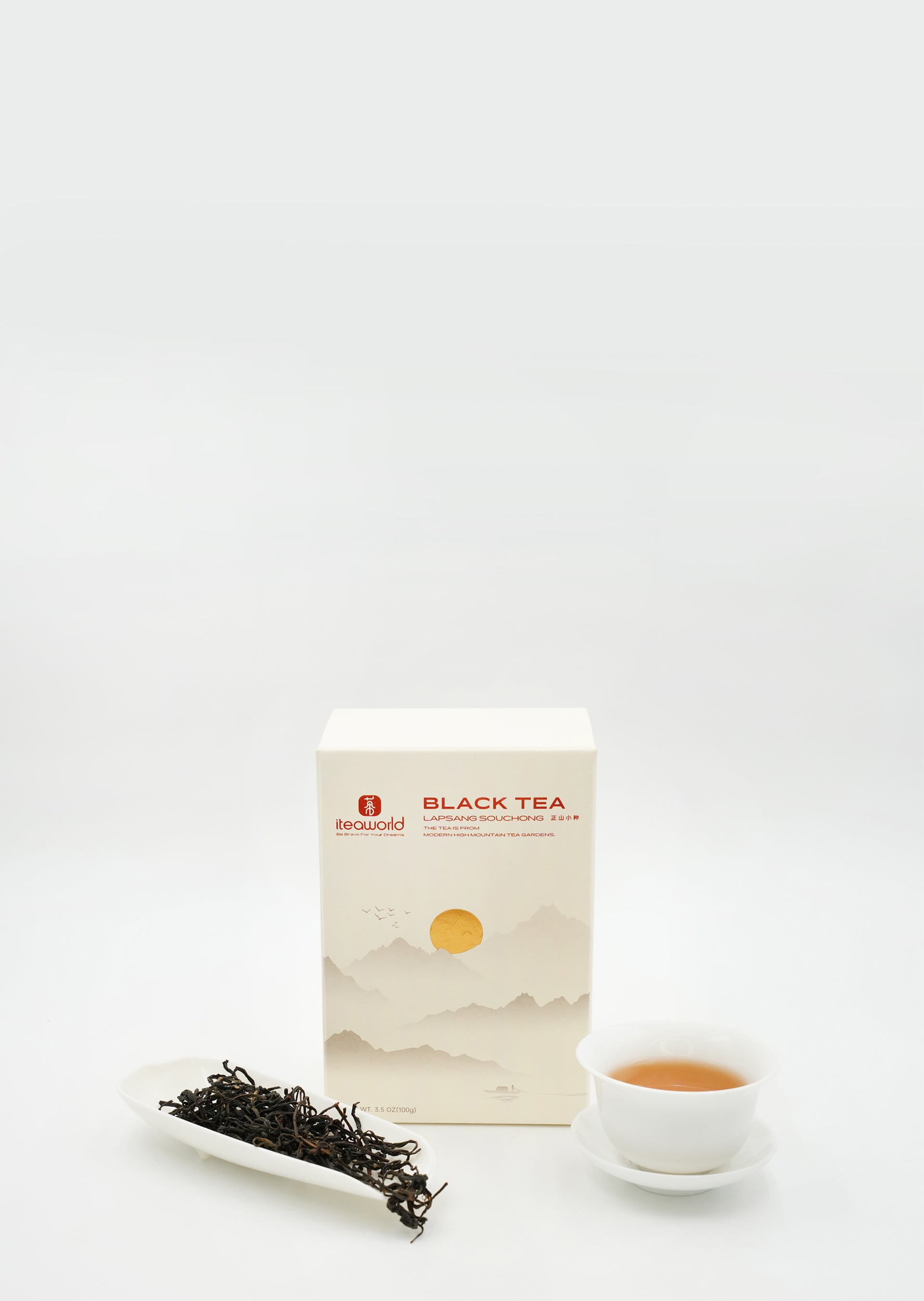 Souchong Black Tea
A Modern Take on the Oldest Black Tea
From the Mountains of Guangxi, Shanglin at an Altitude of 1200m. High Mountains Produce Good Tea
From Abandoned Tea Gardens in Guangxi.
The raw materials of the tea are sourced from abandoned tea gardens in Guangxi, China. After the 1980s these tea gardens were left unattended. They have been abandoned for 30-40 years. Abandoned tea gardens refer to gardens that were once cared for and then left without human intervention for a long time.
Advantages Of Tea From Abandoned Tea Gardens.
No pruning. Highly re-steepable. More authentic. Older tea trees produce sweeter leaves. Organically grown in a natural environment. No chemical fertilizers and pesticides were used. Safer and healthier.
Try the Souchong Black Tea Made With Modern Techniques. Sweet Flowery Aromas.
Traditional Pine Smoke Technique
Heated with ​Chinese Red Pine in the withering phase then smoked with aged Chinese Red Pine wood in the drying phase. The unique aroma of smoky pine and longan.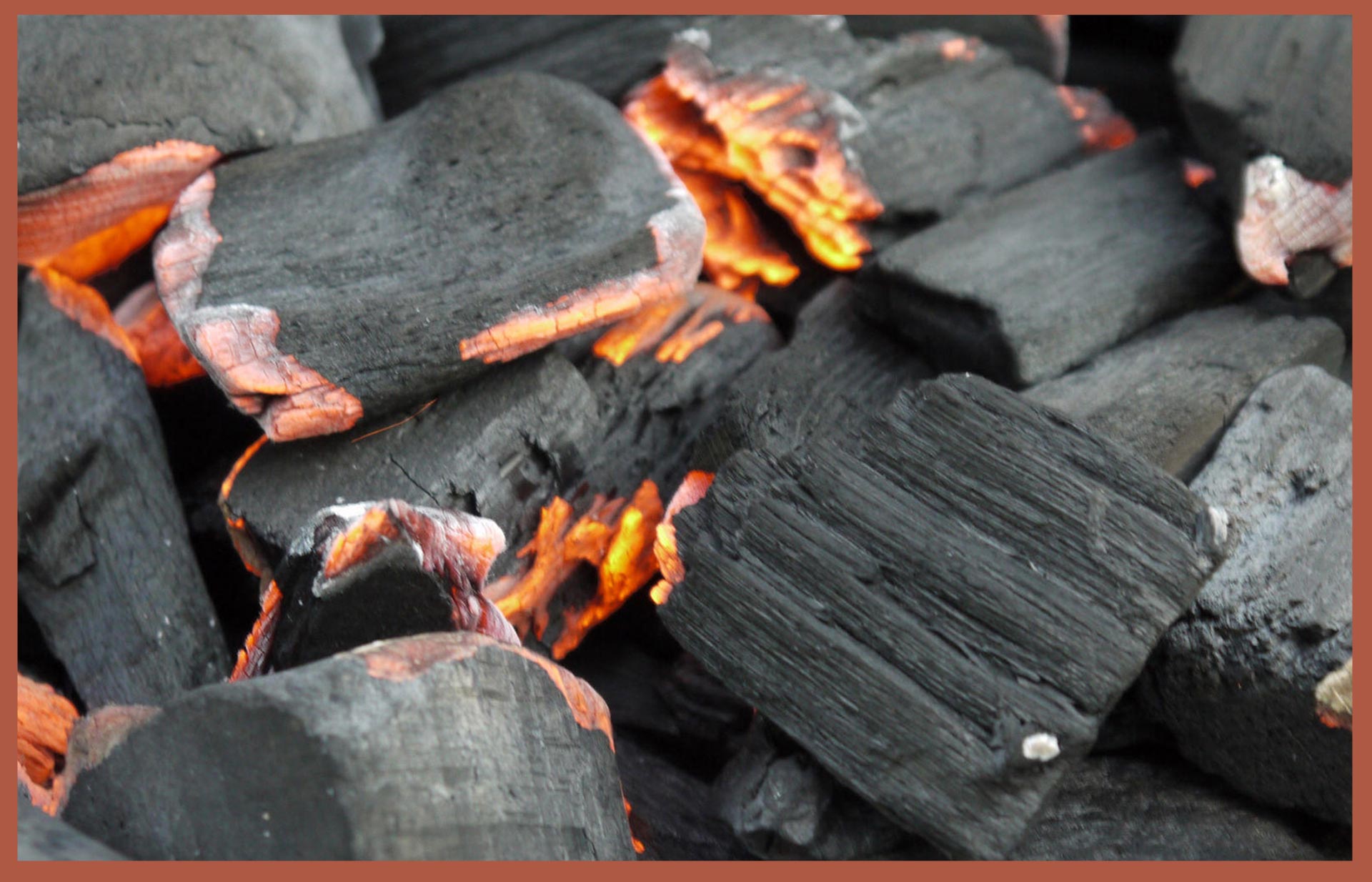 Modern Charcoal Technique
No baking in the withering phase. Charcoal was used for the drying phase. Perfumy Floral Aroma, Sweet and Brisk.
Enjoy Souchong Tea with Your Family
Discover a tea with a delightful aroma, reminiscent of black teas often enjoyed in Western countries. Take a break and try this for a different experience.
From Abandoned Tea Gardens. The Flavor Lastes after 10 Brews
Brew It Correctly. Experience the Authentic Taste of Chinese Tea
We Insist On Using Environmentally-friendly Packaging
iTeaworld has always advocated for green and environmentally-friendly principles. We use paper certified by the Forest Stewardship Council (FSC) and soy-based inks for packaging.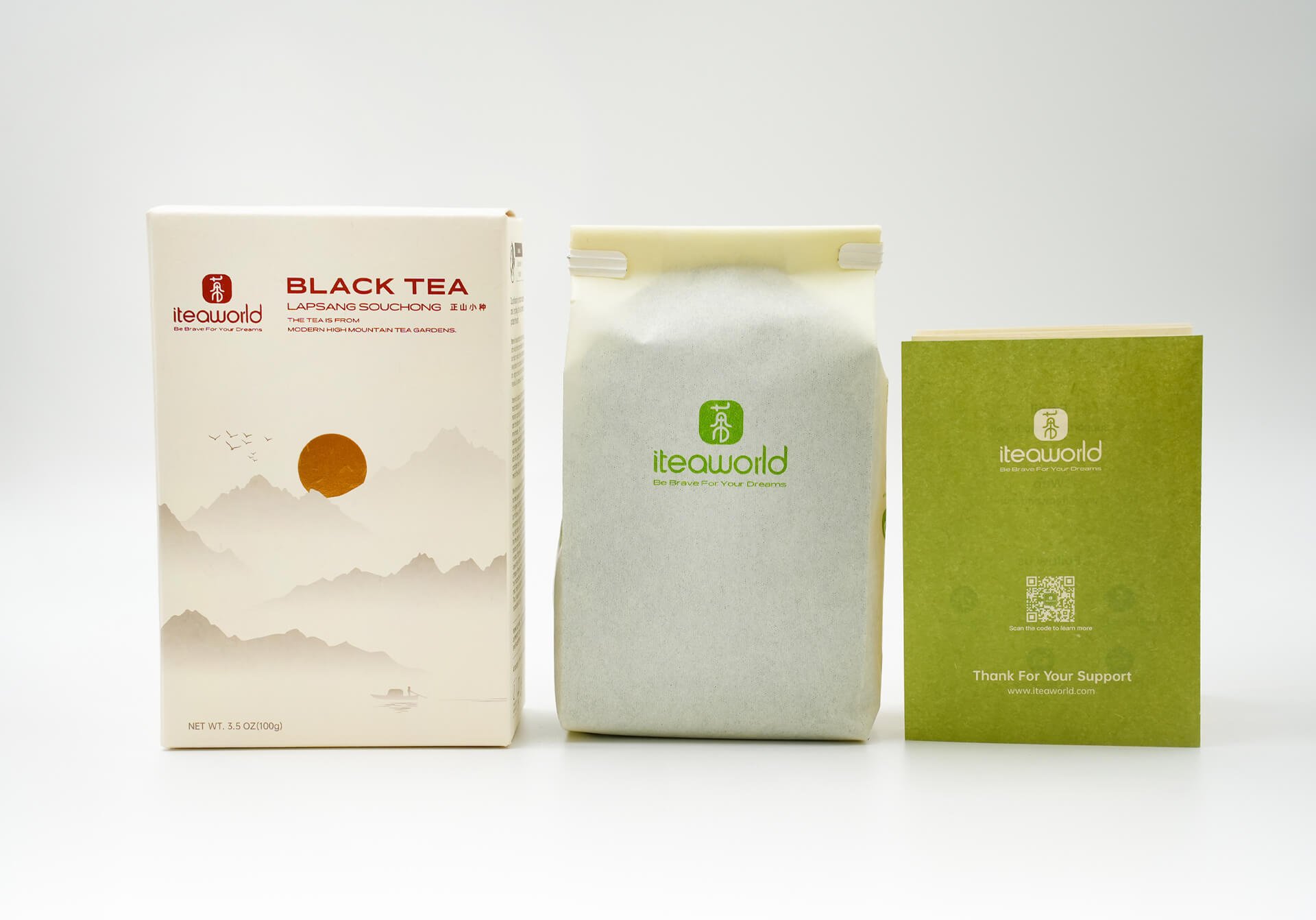 This product is rated 5.0 of 5.0 stars.
It has received 6 reviews.
Beautiful leaf
For those who prefer Lapsang without the intense smoky flavor, this is a wonderful choice. The dry leaf is a dusty, dark chocolate brown with beautifully twisted leaf. This one is best consumed on its own. It is light and thus your palate is best if clean of anything else before you consume it. Very woody in flavor with notes of decaying tree, a pile of wet leaves, raisin bread, and some very light woody notes. The wet leaf aroma is pleasant; high in wheat bread with raisins
Soft mouth feel. Astringency piles on fast. This is not a leave it in the cup and see what happens tea. Don't walk away. Sit and enjoy the session. However, once you get to the fourth and fifth sessions leaving it longer is advisable for more flavor.
Worth the experience.
A very full-bodied floral and fresh minty taste, great perfume from dry leaves to the last sip. Great quality, processed with mastery.
Subtle Complexity: Discovering the Nuances of Unsmoked Lapsang Souchong Black Tea
A very unique Lapsang Souchong indeed, I had never tried an unsmoked variant of this tea and it did not disappoint. There was a slight malty flavor coupled with a caramel and sweet finish. Very nice mouthfeel and I think anyone that enjoys a quality black tea would probably be interested in giving this tea a try.
Gentle black tea
Sweet is not the word for this tea unless you're a very avid tea-enjoyer and are using the term in a broad sense. This is 'sweet' in that it takes on a very slight flowery note, while still holding a hint of earthier depth as black teas do. This is a gentle tea and much of that has to do with the brewing...as teas do.
This arrives in a lovely box which allows makes it wonderful as a gift. The bag inside is more of a waxed paper, which is only sealed through folding and a metal-bendy strip. There's a booklet included on how to properly brew the tea, which I found to be a nice touch (again, great for gifting). The leaves are in very good condition and create a lovely brew. It has a luxurious touch and is enjoyable to drink.
Light and not bitter
This tea is remarkable, its a black tea, but when brewed produces a light amber color. The taste is that of black tea, but without the bitterness hence not needing any sweetener. I did wash with hot water first per instructions and brewed 2-3 times, it does note that it can be brewed much more. Regardless these tea leaves are great, and its worth the price.
FAQ
We Promise Provide 100% Natural Loose Leaf Tea Without Any Extra Additions. No Sugar,No Gluten.
Feel free to contact us, we are always here to answer your questions!
Support Email: support@iteaworld.com
What are the health benefits of Souchong Black Tea?

Souchong Black Tea, like other black teas, is known for potential health benefits such as providing antioxidants that combat free radicals, potentially supporting heart health by helping to lower cholesterol levels and regulate blood pressure, and offering a caffeine boost for increased alertness and focus.
Shelf life of Souchong Black Tea and how to preserve it

Fenghuang Dancong has a shelf life of 24 months. To keep Fenghuang Dancong tea fresh, store it in an airtight container away from direct sunlight and moisture. Proper storage will help maintain its flavor and aroma over time.
What is the difference between Wild Souchong Black Tea and Souchong Black Tea?

They have the following differences:
1. the difference of tea trees.
The tea tree of Wild Souchong Black Tea is the wild tea in the deep mountains of Guangxi, artificial searching and picking, a year of picking!
Souchong Black Tea tree is the tea tree of Guangxi abandoned tea
The taste of both is similar
2. The difference between the production process
Wild Souchong Black Tea is smoked with traditional pine smoke, which has unique pine smoke and osmanthus aroma.
The Souchong Black Tea adopts modern technology, no smoking. It has floral flavor
3. The difference of oxidization degree and taste
Wild Souchong Black Tea belongs to high oxidation, soup color is red and mellow taste
Souchong Black Tea is light oxidation, soup color is golden, taste sweet and fresh
4. Tea polyphenol content
The polyphenol content of Wild Souchong Black Tea is low.
Souchong Black Tea has medium polyphenol content.
What countries do you ship to and what is your return policy?

We support shipping to most countries in the world, including the United States, Europe, Russia, Asia and more!
Shipping time is around 5-14 business days
We support full refund if you are not satisfied within 15 days after you receive the tea, no need to return the tea.
We are confident in our teas and are happy to provide excellent customer service.
We also currently have a free shipping discount on your first order when you sign up!
This product is rated 5.0 of 5.0 stars.
It has received 6 reviews.