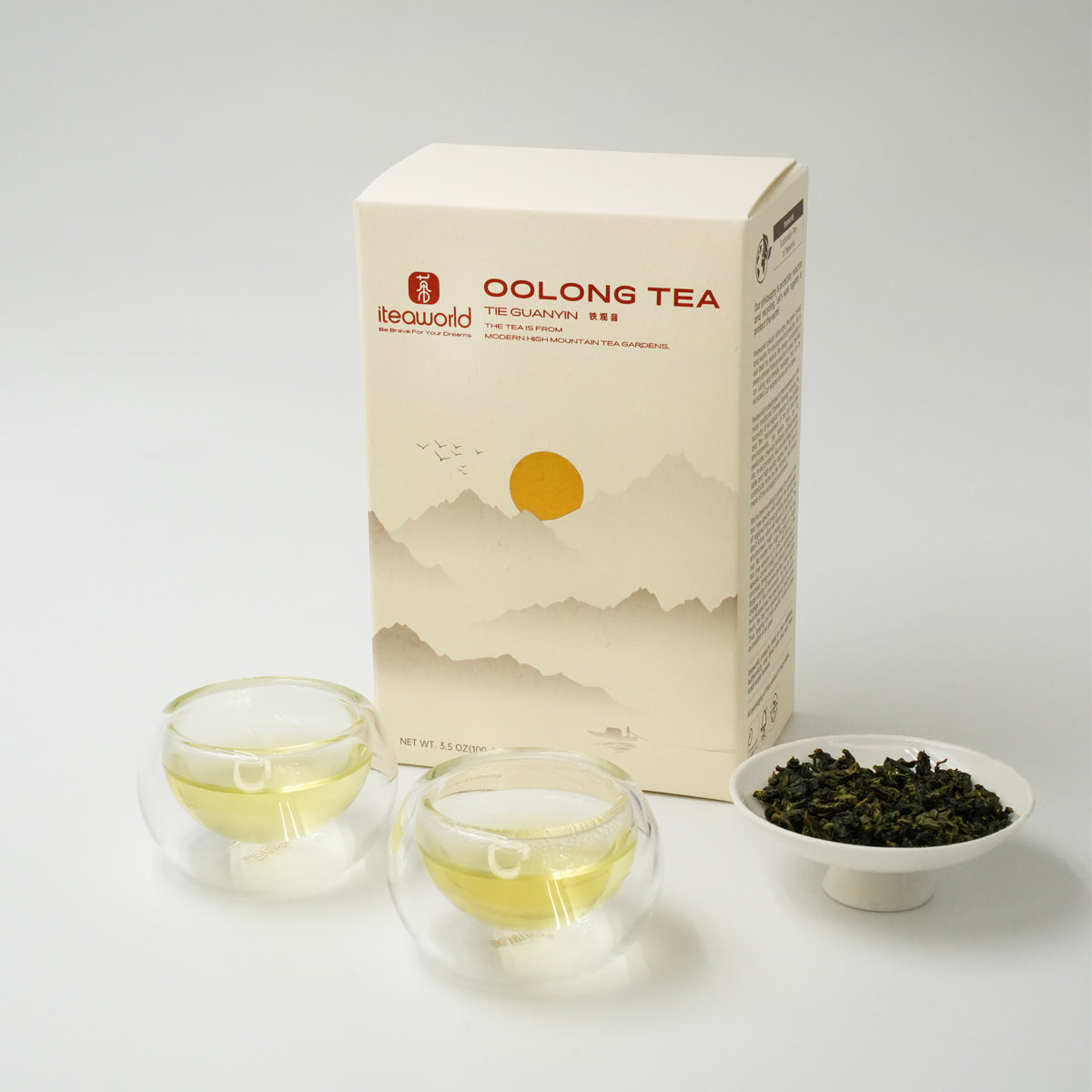 Tie Guan Yin Oolong Tea
---
Tieguanyin is China's most well-known oolong tea, lightly oxidized, with a clear, high aroma and distinctive orchid flavor.
This tea is screened Anxi County clear aroma Tieguanyin, 22 years of fall picking, a bud, and two leaves, brewed with a natural orchid fragrance.


Origin:
Gande Town, Anxi, Fujian,China
Taste Note:
Mild, Smooth and Buttery In The Mouth. It Is Like Sipping A Cup Full Of Brilliant Spring Flowers.
Aroma:
Clean And Refreshing Aroma, With An Orchid Aroma
Tie Guanyin Oolong Tea
China's Most Well-known Oolong Tea With Clean and Refreshing Aroma
Genuine and Authentic. A real Anxi Tie Guanyin Tea
Surrounded by mountains and veiled in mist, Anxi has an average annual temperature of 15-18℃, a frost-free period of 260-324 days, and an annual rainfall of 1700-1900mm. The relative humidity is above 78%. The soil is mostly acidic red soil with a pH value of 4.5-5.6. The soil is deep and rich in organic matter and mineral substances, which contributes to the unique flavor of the Tie Guanyin tea trees
The 300 Years Old Anxi Tie Guan Yin is A World Cultural Heritage
Anxi Tie Guan Yin, which originated around 1725, is one of China's top ten famous tea. On May 22, 2023, Anxi Tie Guan Yin was honored with the "Global Important Agricultural Cultural Heritage" certificate
Core Tea Indicators
Taste: Fresh and strong
Fragrance Type: Orchid Aroma
Tea Soup Color: Apricot
Caffeine Level: Medium
Brew It Correctly. Experience the Authentic Taste of Chinese Tea.
We Insist On Using Environmentally-friendly Packaging.
iTeaworld has always advocated for green and environmentally-friendly principles. We use paper certified by the Forest Stewardship Council (FSC) and soy-based inks for packaging.
This product is rated 5.0 of 5.0 stars.
It has received 2 reviews.
Light and floral
Tie Guan Jin is my all time favourite oolong so I'm always happy to try new ones from different companies. 1st steep was light, refreshing and floral, lightly sweet. It's a lot like green tea and and that's why I love this oolong so much. 2nd steep - flower notes were mixing up with vegetal notes. 3rd steep was fully vegetal, reminding me of leafy greens. 4th to 7th steeps were very similar in flavour with slowly decreasing strength. Fresh, clean, leafy greens, spinach in particular.
Subtle and Mild Oolong
I recently tried this Tie Guan Yin Oolong tea, and I must say it's a great choice. The subtle flavor and gentle aroma enhance my tea tasting experience.
FAQ
We Promise Provide 100% Natural Loose Leaf Tea Without Any Extra Additions. No Sugar, No Gluten.
Feel free to contact us, we are always here to answer your questions!
Support Email: support@iteaworld.com
How does Tie Guan Yin taste like?

This is a tea with a floral flavor
It has a mild, smooth flavor without any bitterness and has a buttery feel in the mouth.
What is the shelf life of Tie Guan Yin and how to store it?

Shelf life is 24 months,To maintain the freshness of Tie Guan Yin, please store it in an airtight container away from direct sunlight and moisture. Proper storage will help maintain its flavor and aroma over time.
What countries do you ship to and what is your return policy?

We support shipping to most countries in the world, including the United States, Europe, Russia, Asia and more!
Shipping time is around 5-14 business days
We support full refund if you are not satisfied within 15 days after you receive the tea, no need to return the tea.
We are confident in our teas and are happy to provide excellent customer service.
This product is rated 5.0 of 5.0 stars.
It has received 2 reviews.