New Oolong Tea Sampler
---
Gift: 20 Biodegradable Tea Bags, Loose Leaf Tea & Tea Bags at the Same Time
Indulge in the diverse world of our Oolong Tea Sampler – a delightful assortment of four distinct flavors. Start your day with the refreshing tea, reminiscent of sun-kissed orchards, creating a perfect morning ritual. Ideal for any occasion, this thoughtful gift invites you to share moments of warmth and flavor with friends and family, brewing memories that last a lifetime.

Tie Guanyin 0.17 OZ(5g)*5
Zhangping Shui Xian 0.17 OZ(5g)*5
Dahongpao 0.17 OZ(5g)*5
Fenghuang Dancong 0.17 OZ(5g)*5

20 Complimentary Biodegradable Tea Bags Included
Tea Storage Methods and Shelf Life

Tea Storage Methods: Cool, dry, away from light, and refrigerate at 5°C to prevent odor.
Shelf Life: 24 months
Taste Four Genuine, 2023-Harvested Chinese Loose Leaf Oolong Teas.
Discover Your Favorite Among 4 Distinct Oolong Teas, All in One Tasting.
Savor 4 Oolong teas with diverse profiles, ranging from the pure fragrance of Tie Guan Yin to the rich peach essence of Fenghuang Dancong. These Oolongs encapsulate various styles of Chinese Oolong. If you want to experience the richness of oolong tea flavor, this is your top pick.
Fenghuang Dancong
Aromatic Oolong Tea harvested from Old Tea Trees Over 100 Years Old.
Aroma: Flowery And Honey Aroma.
Taste Note: Intense Peach Aroma, Delicate And Smooth Taste, And A Unique Combination Of Fruity And Roasted Flavors Make This Tea Stand Out.
Plucking Standard: One bud with two leaves, Spring, 2023.
Da Hong Pao
The Oldest Oolong Tea & Wuyi Rock Tea.
Aroma: Fruity Aroma.
Taste Note: Dense, Creamy Texture And Sweet, Minerally Mouthfeel
Plucking Standard: One bud with two leaves, Spring, 2023.
Zhangping Shui Xian
A Famous Tea With A History Of 1000 Years.
Aroma: Floral and fruity
Taste Note: Slightly firework aroma, obvious flower and fruit aroma; mellow and refreshing flavor, strong aftertaste.
Plucking Standard: One bud with two leaves, Spring, 2023.
Tieguanyin
China's Most Well-known Oolong Tea.
Aroma: Clean And Refreshing Aroma.
Taste Note: Mild, Smooth and Buttery In The Mouth. It Is Like Sipping A Cup Full Of Brilliant Spring Flowers.
Plucking Standard:  One bud with two leaves, Spring, 2023.
Explore The Diverse Regional Flavors With Oolong Teas Sourced From Four Unique Terroirs.
Take a journey through four distinct regions with teas like Guangdong's Fenghuang Dancong and the exclusive Zhangping Shuixian from Fujian. Explore the unique flavors of each region.Rest assured, each tea is a premium grade, freshly picked in the spring of 2023.
Why Choose Us?
1.The founder of iTeaworld is a tea lover with 20 years of experience who brings real expertise.
2.We have worked in the Chinese tea industry and tea gardens for over 15 years to ensure the quality of our teas.
3.We are innovative in offering extra tea bags for loose leaf teas, providing convenience.
4.We offer first class customer service including a 15 day refund policy.
5.We are committed to environmental sustainability and offer eco-friendly packaging
Why Choose This Oolong Tea Sampler?
Taste the Difference in Oolong Tea Oxidation.
Sample the nuanced tastes resulting from different oxidation degrees in our teas. Identify your oxidation level of choice.
Oolong tea color represents its oxidation level.
*The higher the oxidation level, the darker the color of the tea broth and the mellower the taste.
Why Choose This Oolong Tea Sampler?
Explore Teas From Different Growth Methods and Gardens.
Among the four types of tea exclusively selected this time, two come from high mountain tea gardens and the other two come from old tea tree gardens. Tea from high mountain tea gardens has high amino acids, tender leaves and rich nutrition. The tea from the old tea tree garden is more natural and contains rich nutrients. It is only picked once a year.
Why Choose This Oolong Tea Sampler?
Different Tastes and Flavors
Four different flavors of tea to bring out the different tastes, from the light Tieguanyin to the sweet Fenghuang Dancong. experience four different flavors of tea at once, so you can quickly find your favorite oolong tea!
Transparently Sharing Why We Chose These Oolong Teas.
Fenghuang Dancong
Why choose this tea
1. Fenghuang Dancong tea is famous for its unique aroma, known as the perfume of tea. The oolong tea with the most favorable comments
2. A representative of medium oxidized oolong tea with prominent floral aroma. Belongs to Milanxiang variety
3. From the most core production area of Phoenix Town, Chaozhou, tea from century-old tea trees
Tieguanyin
Why choose this tea
1.Tieguanyin is one of the top ten famous teas in China, a must-try tea among oolong teas
2 Representatives of lightly oxidized oolong tea, strong orchid aroma, with Guanyin Yun, unique flavors
3 This Tieguanyin from the core production area of Tieguanyin, using traditional processing technology, is the representative of the traditional authentic Tieguanyin
Zhangping Shui Xian
Why choose this tea
1. The only tightly pressed variety of oolong tea, special and highly collectible
2. The representative of medium oxidized oolong tea, with obvious flower and fruit aroma and special taste.
3. It is handmade by experienced masters and dried by traditional charcoal roasting, which is the masterpiece of traditional craftsmanship of Zhangping daffodil tea.
DaHong Pao
Why choose this tea
1. Dahongpao is one of the top ten famous teas in China, a must try oolong tea
2. A representative of heavily oxidized oolong teas, it is rich and full-bodied with a light mineral flavor and a sweet aftertaste
Loose Leaf or Tea Bag? All At Once.
We offer loose leaf tea with intact leaves. But we understand the convenience of tea bags, so we have innovated to offer additional tea bag solutions. We offer 20 biodegradable cornstarch tea bags. It's easy to just pour the tea leaves into the tea bags!
Loose Leaf
Tea Bag
Brewing Oolong Tea Correctly: Getting a Wonderful Taste
Savoring Tea Responsibly: A Commitment to Nature.
Tea, a gift from Mother Nature, deserves our gratitude and protection. At iTeaworld, we brew with sustainability in mind, we offer biodegradable tea bags and a commitment to preserve ancient tea trees.
Complimentary Biodegradable Tea Bags
Complimentary Biodegradable Tea Bags – 20 Free Packs for You!
We're delighted to offer you 20 free biodegradable tea bags made from corn fiber. They're easy to use, flip the top part of the tea bag to brew. These tea bags are crafted from corn starch, safe for you, biodegradable, and environmentally friendly.
Sustainable Eco-Friendly Packaging
iTeaworld has always advocated for green and environmentally-friendly principles. We use paper certified by the Forest Stewardship Council (FSC) and soy-based inks for packaging.
Biodegradable Packaging
The outer packaging of the green tea collection is biodegradable, the bag for tea leaves will break down at high temperatures.
The tea bags contain a layer of CPP film, which is designed to prevent the tea leaves from moisture and deterioration. It is environmentally friendly and safe to use. The production process does not contain solvents and is non-toxic.Tips for use: As shown in the picture on the right, after use, you can tear off the packaging cover along the edge for easy access to the tea leaves.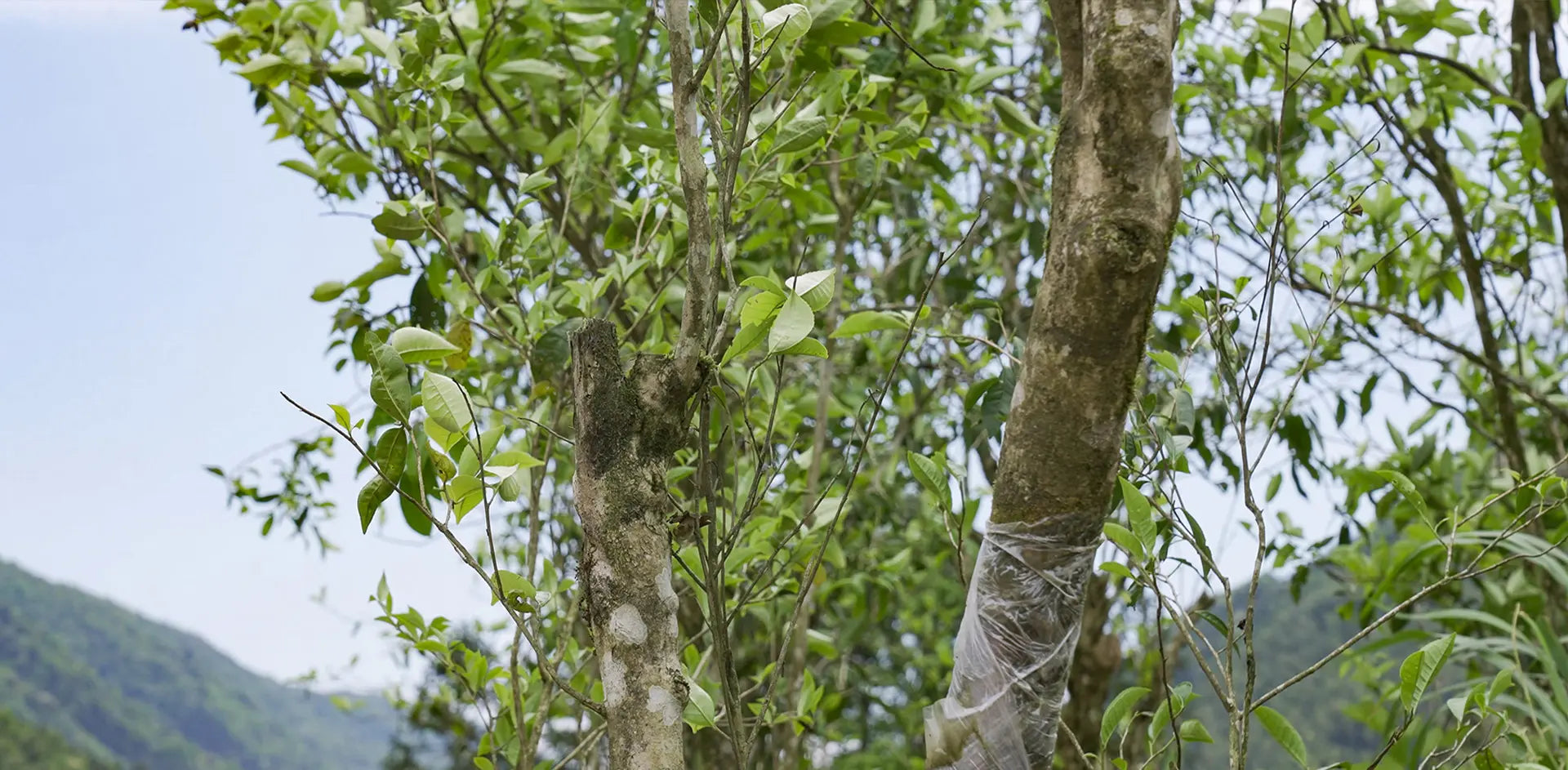 Preserving Centennial Trees: Our Commitment
Centuries-old trees face pest infestations and survival challenges. iTeaworld collaborates with the Guilin Agriculture Bureau to establish conservation sanctuaries, transplanting and caring for over 3000 ancient tea trees.
Know More
This product is rated 5.0 of 5.0 stars.
It has received 1 review.
Best Gift!
Great gift for tea drinkers! Arrived quickly.
FAQ
We Promise Provide 100% Natural Loose Leaf Tea Without Any Extra Additions. No Sugar, No Gluten.

Feel free to contact us, we are always here to answer your questions!

Support Email: support@iteaworld.com
What countries do you ship to and what is your return policy?

We support shipping to most countries in the world, including the United States, Europe, Russia, Asia and more!
Shipping time is around 5-14 business days
We support full refund if you are not satisfied within 15 days after you receive the tea, no need to return the tea.
We are confident in our teas and are happy to provide excellent customer service.
What makes an Oolong Tea Sampler a good choice for tea enthusiasts?

Oolong Tea Sampler offer the opportunity to explore the diverse world of oolong teas and discover new flavor profiles. On top of that, you can enjoy four oolong teas at once at a low cost and quickly find your favorite oolong tea category.
Do I need special teaware for oolong teas in the sampler?

While not required, a good quality teapot or gaiwan can enhance the oolong tea experience.
Are there health benefits associated with drinking oolong teas from the tea sampler?

Oolong teas contain antioxidants and may offer potential health benefits such as improved metabolism and digestion.
what is oolong tea good for?

Oolong tea is renowned for its potential health benefits, including antioxidants that may aid metabolism, digestion, and overall well-being.
How does the oolong tea color affect its flavor profile?

"Oolong color" typically describes the range of colors oolong tea can have, spanning from light green to deep brown, representing the level of oxidation.
What makes the Oolong Tea Sampler the best loose leaf tea sampler?

The Oolong Tea Sampler Pack has been carefully curated from a selection of high quality loose leaf oolong teas known for their distinctive flavors and aromas. It allows you to experience 4 well-known Chinese Oolong teas at once, which is not only suitable for beginner tea drinkers, but also perfect as a gift for tea lovers!
This product is rated 5.0 of 5.0 stars.
It has received 1 review.