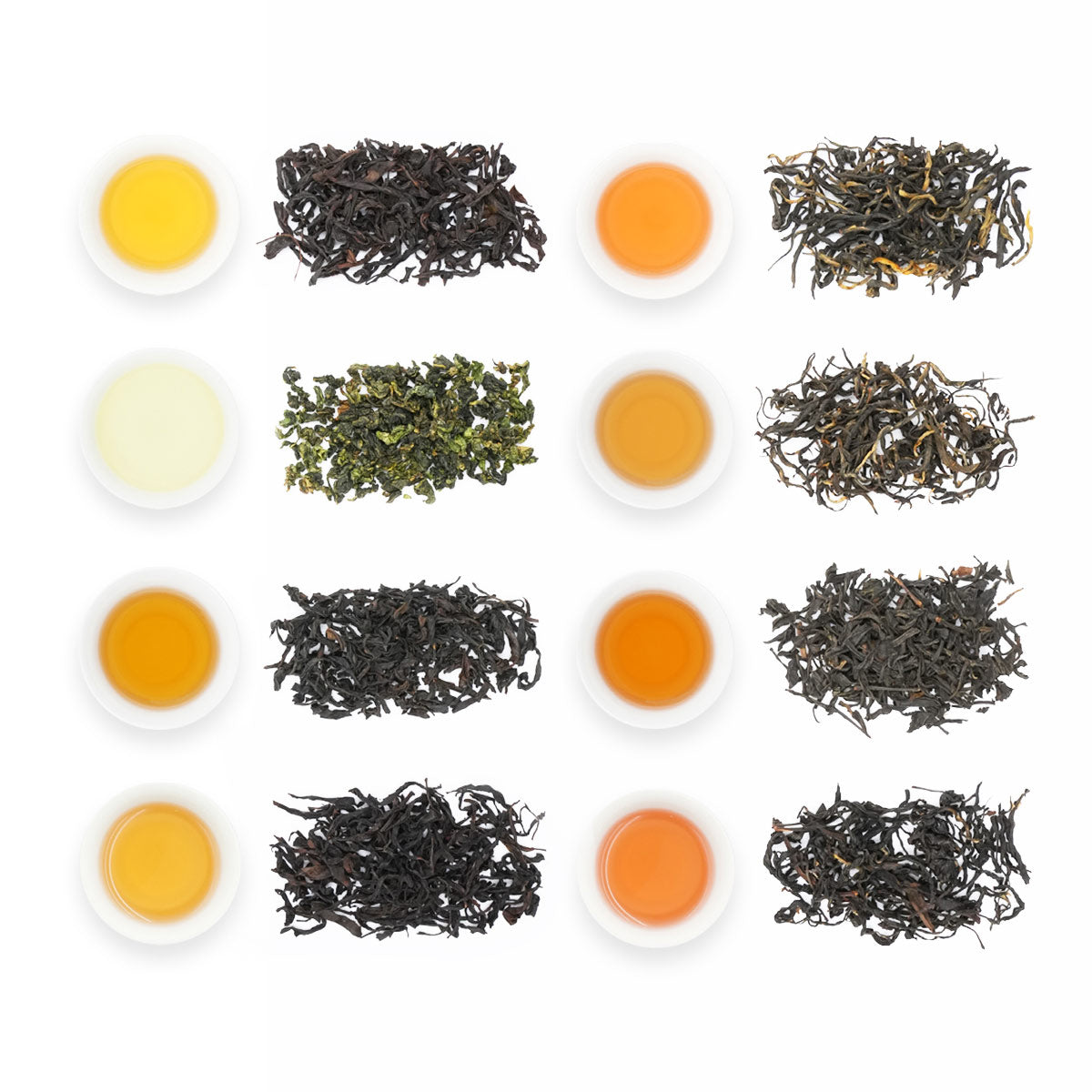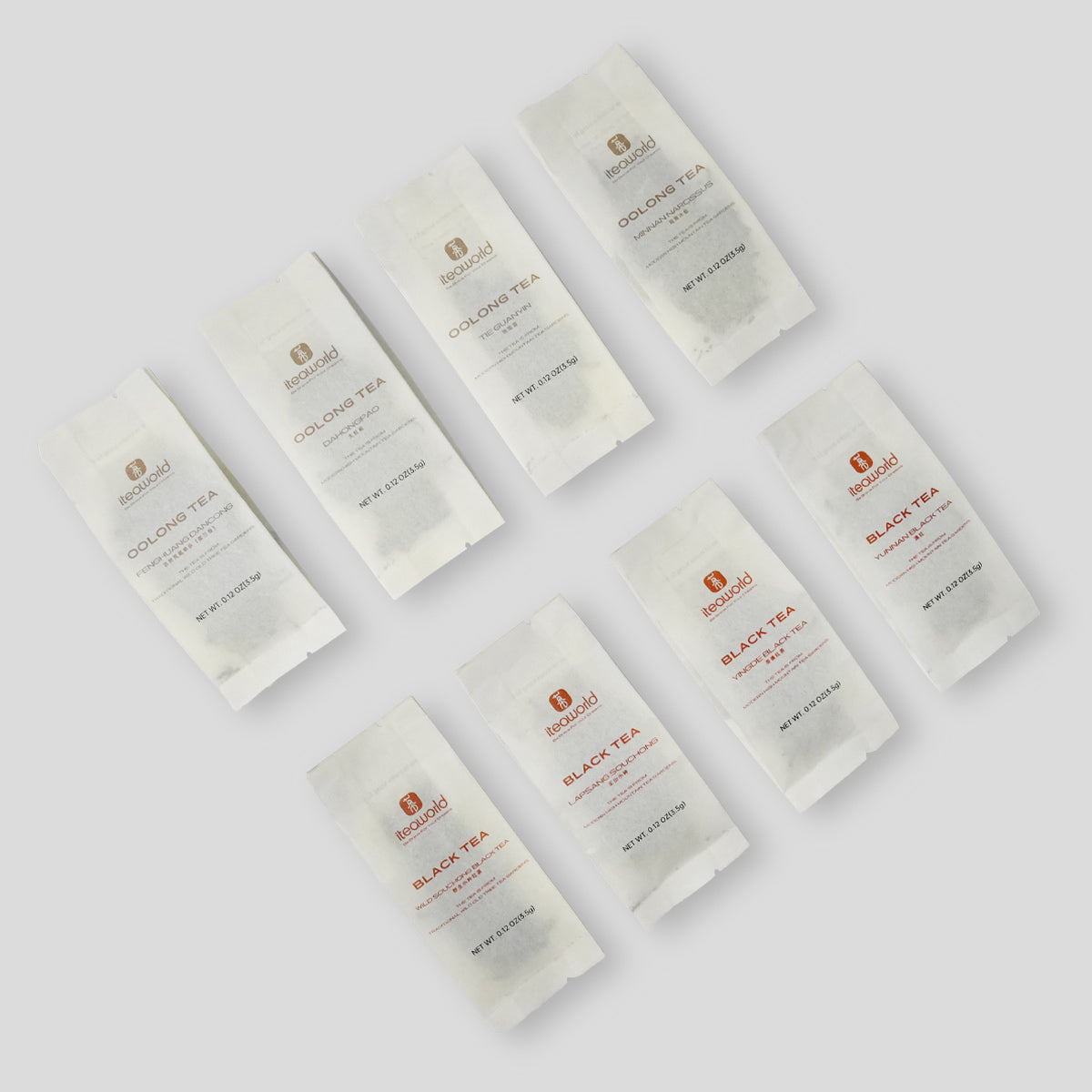 Classic Tea Sampler
---
Gift: 20 Biodegradable Tea Bags, Loose Leaf Tea & Tea Bags at the Same Time
Experience the soul-soothing moments with our Classic Tea Selection. Picture yourself cozied up by the fireplace on a chilly evening, sipping the robust black teas that warm both your hands and heart. As the rich oolongs unfold, imagine the anticipation of discovering a new world, making this collection a perfect gift for those you cherish or a delightful introduction for tea novices. Elevate your tea ritual with the classics that resonate with the essence of shared joy and exploration

Yingde Black Tea (3.5g) *2
Yunnan Black Tea (3.5g) *2
Souchong Black Tea (3.5g) *2
Wild Souchong Black Tea (3.5g) *2
Dahongpao Oolong tea(3.5g) *2
Tie Guanyin Oolong tea (3.5g) *2
Minnan Narcissus Oolong tea (3.5g) *2
Fenghuang Dancong Oolong tea (3.5g) *2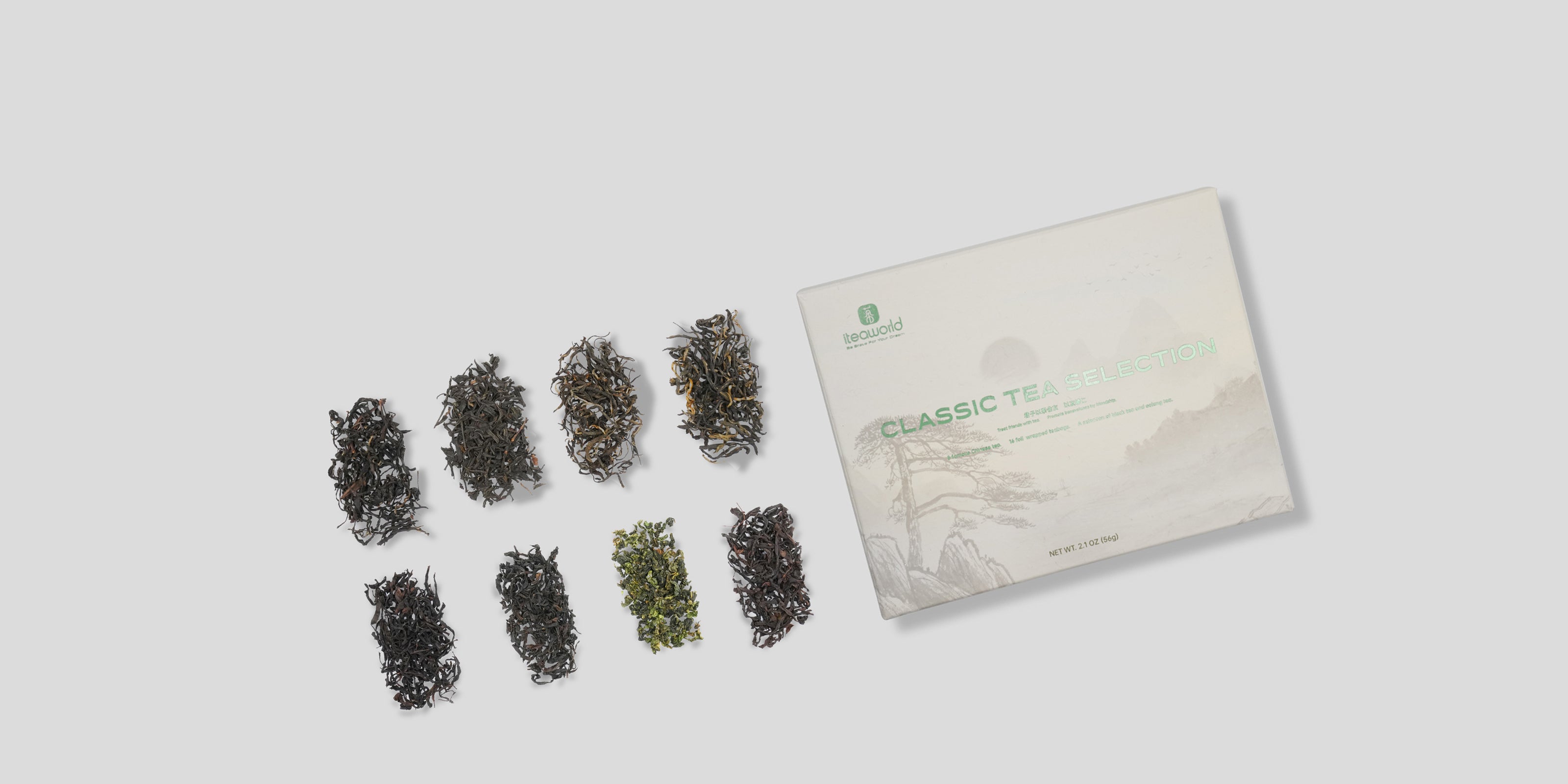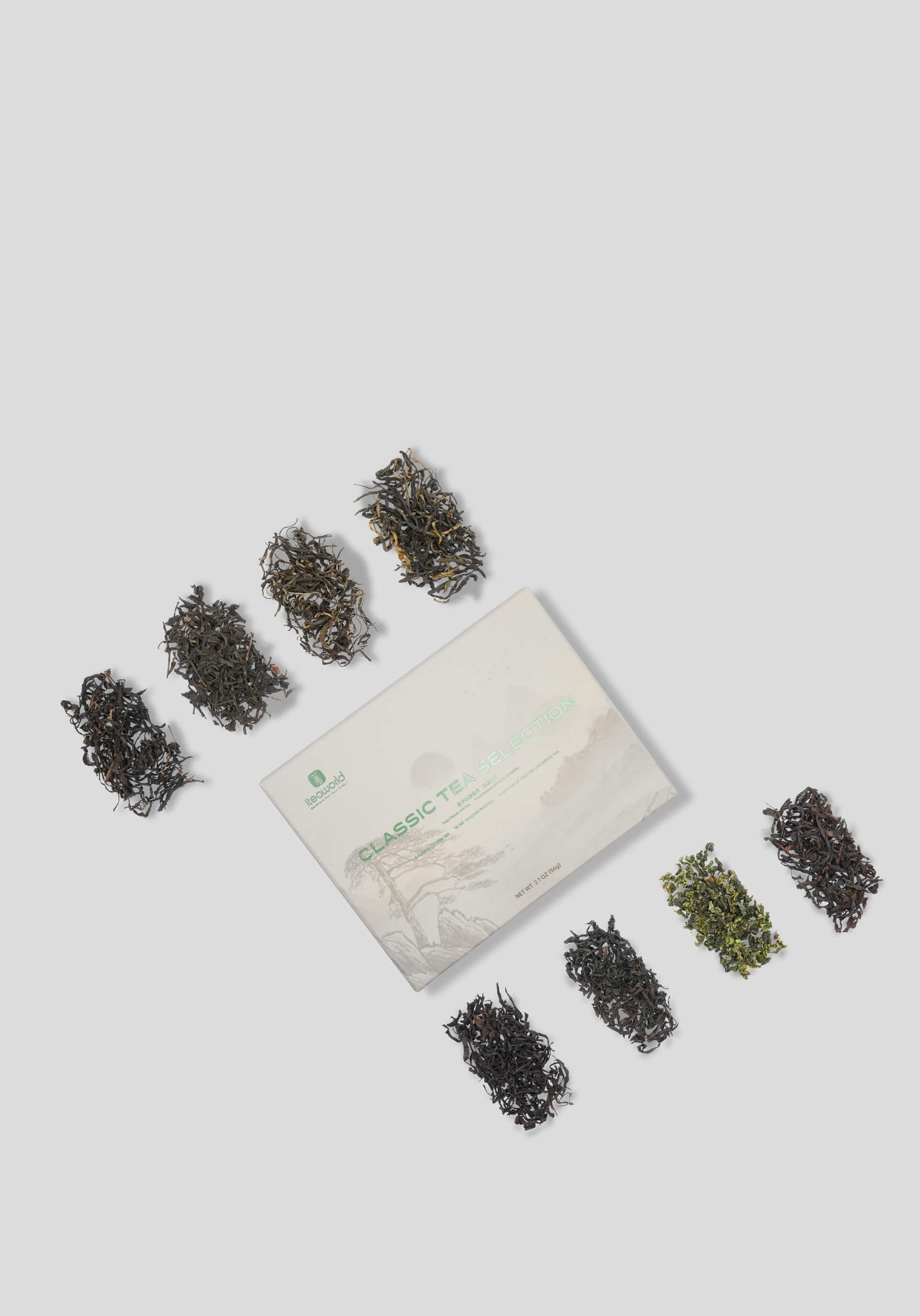 One Box for Tasting 8 Classic Chinese Oolong Tea and Black Tea
Each Tea Is A Classic.
Ever sipped tea in a Chinese restaurant and wished you could have it at home? Let this class tea selection be your guide to experiencing 8 classic Chinese teas. It's your key to finding that perfect loose leaf tea!
Fenghuang Dancong

The Most Aromatic Oolong Tea.
Aroma: Flowery And Honey Aroma
Taste Note: Most Praised Tea: Intense Peach Aroma, Delicate And Smooth Taste, And A Unique Combination Of Fruity And Roasted Flavors Make This Tea Stand Out.
Plucking Standard: One Bud With Two Leaves, Autumn,2022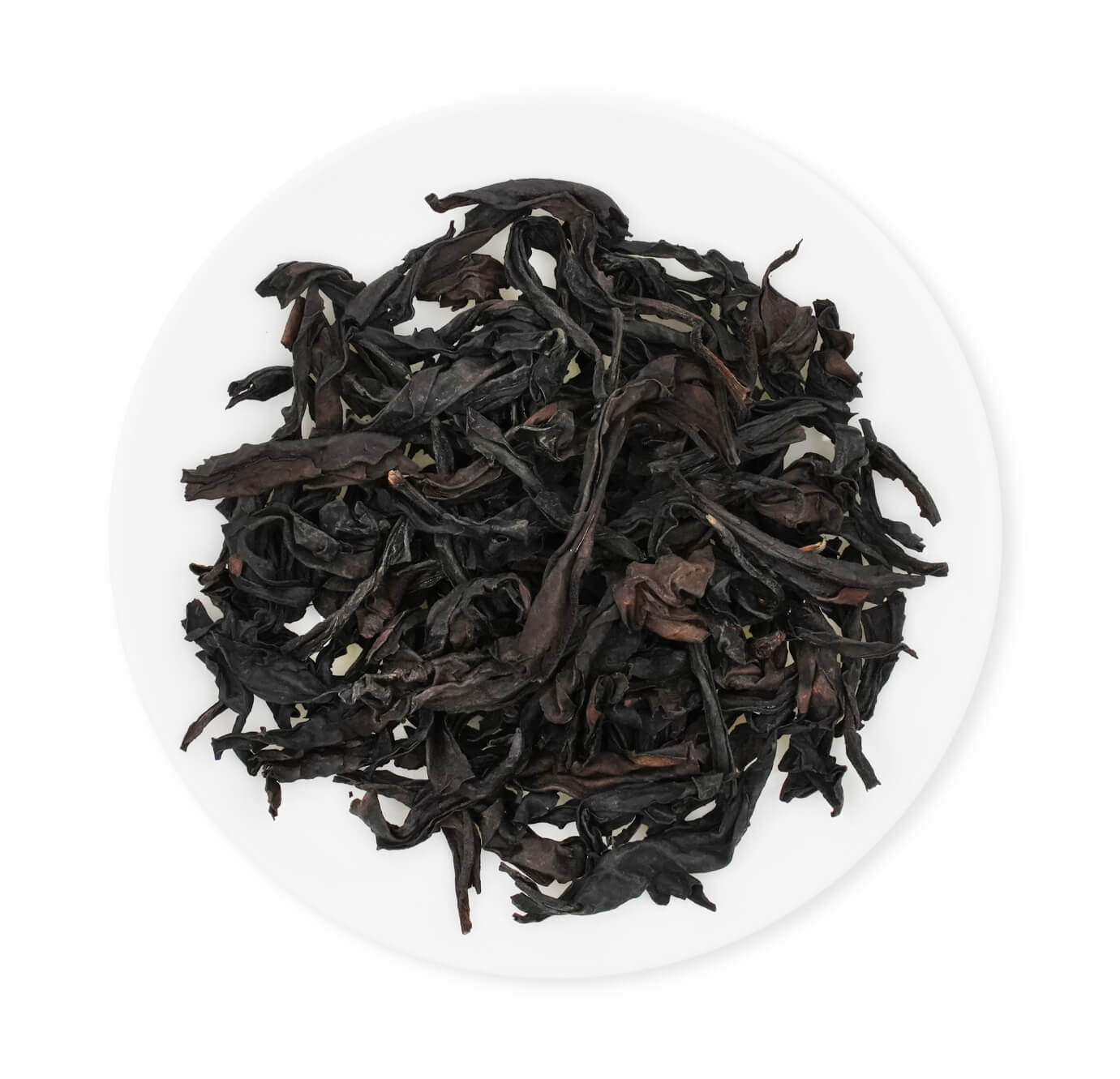 Dahongpao

The Oldest Oolong Tea.
Aroma: Fruity Aroma
Taste Note: Dense, Creamy Texture And Sweet, Minerally Mouthfeel
Plucking Standard: One Bud With Two Leaves, Autumn,2022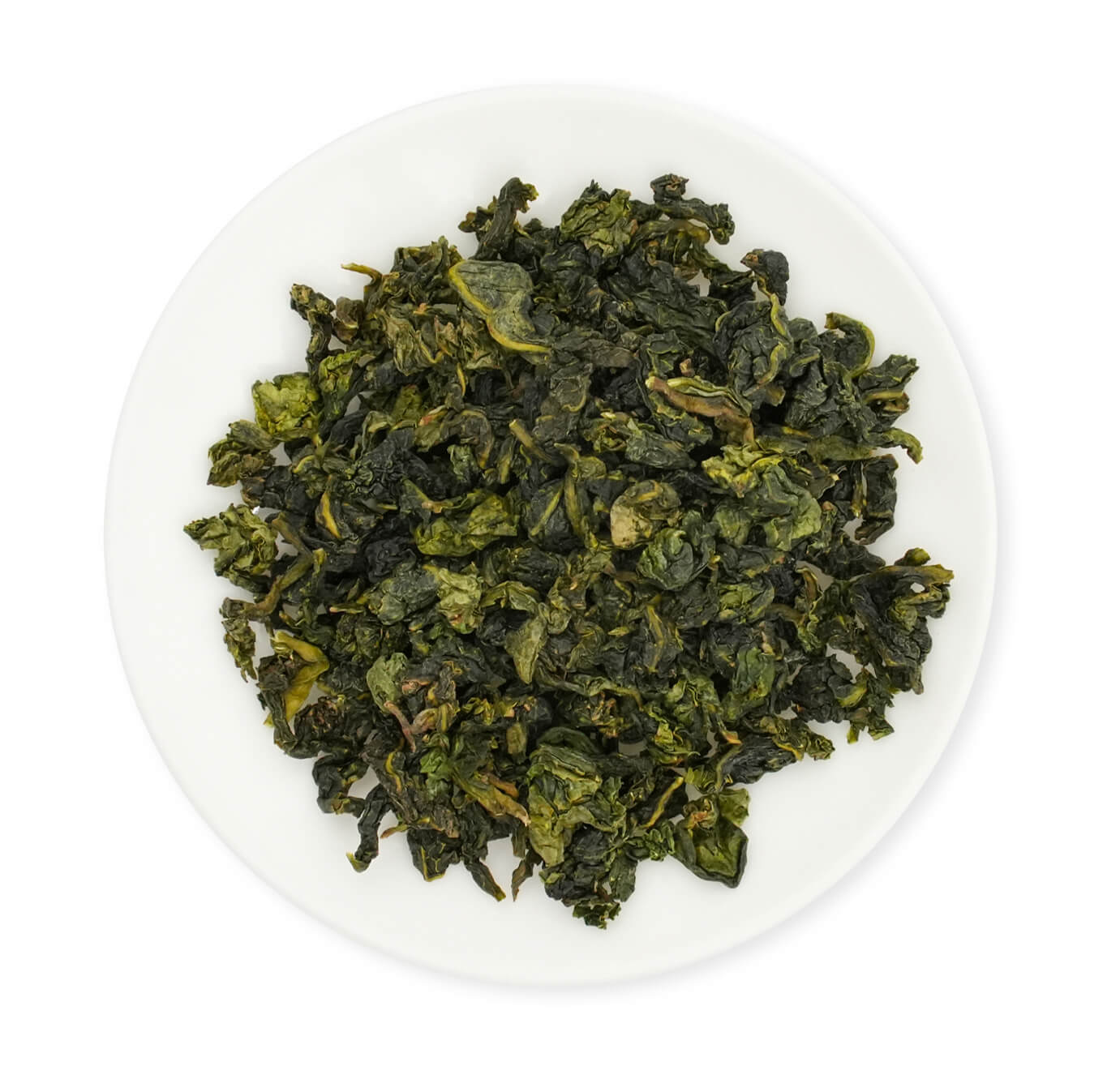 Tie Guanyin

The Representative of Qin Xiang Oolong tea.
Aroma: Clean And Refreshing Aroma, With An Orchid Aroma
Taste Note: Mild, Smooth and Buttery In The Mouth. It Is Like Sipping A Cup Full Of Brilliant Spring Flowers.
Plucking Standard: One Bud With Two Leaves, Autumn,2022
Minnan Narcissus

An Oolong Tea Adored By Ladies
Aroma: Flowery Aroma
Taste Note: The Perfect Balance Of Floral, Natural Sweetness And Full-Bodied Flavor
Plucking Standard: One Bud With Three Leaves, Autumn,2022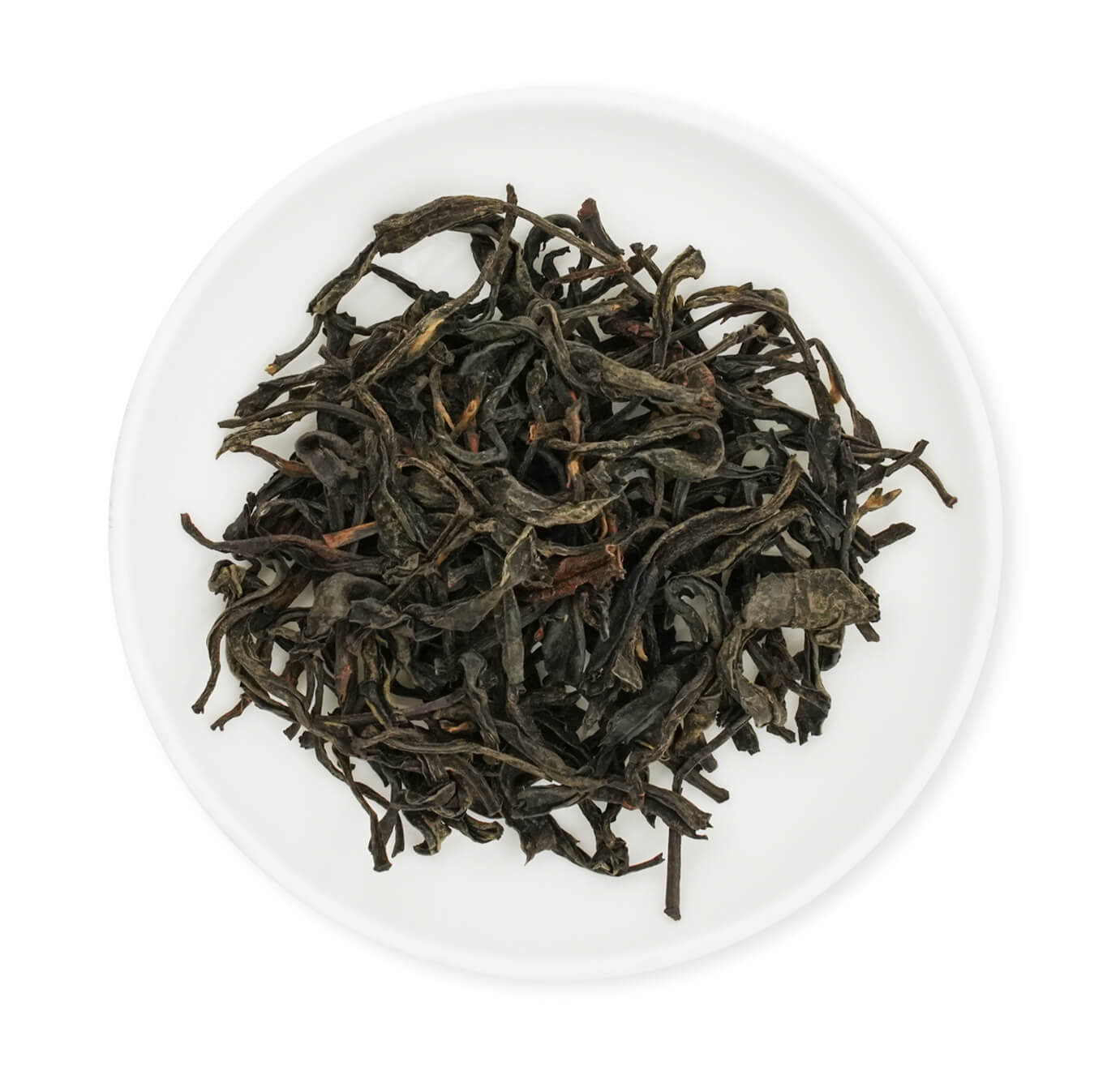 Wild Souchong Black Tea

The Oldest Black Tea.
Aroma: Smoky Pine Aroma
Taste Note: Smoky Aroma With Ripe Fruity Notes That Are Characteristic Of Black Tea. Flavors of Roasted Sweet Potatoes With A Smooth Texture. Will Remind You Of A Winter Campfire
Plucking Standard: One Bud With Two Leaves, Autumn,2022
Souchong Black Tea

A Modern Take on the Oldest Black Tea.
Aroma: Flowery Aroma
Taste Note: Unsmoked Lapsang Souchong Has A Subtle Floral And Sweet Flavor With A Rich And Smooth Taste
Plucking Standard: One Bud With Two Leaves, Autumn,2022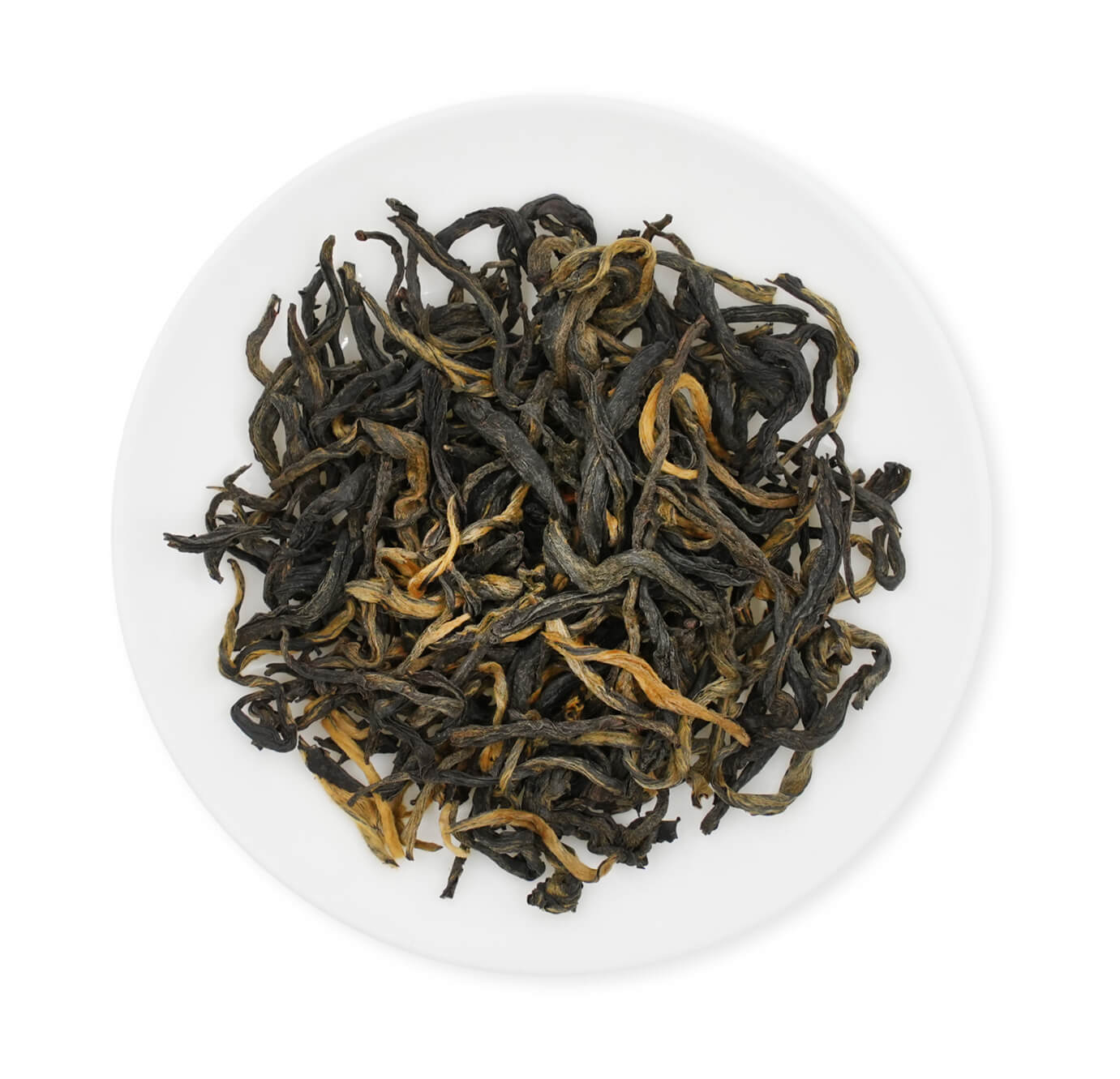 Yunnan Black Tea

The Strongest Tasting Black Tea in China.
Aroma: Honey Aroma
Taste Note: Rich And Smooth Flavor With Caramel, Malt Flavors, And Sweet Honey Aroma
Plucking Standard: One Bud With Two Leaves, Autumn,2022
Yingde Black Tea

One of the Three Major Black Teas in China.
Aroma: Sweet Aroma
Taste Note: Full-Bodied And Smooth, With Caramel And Cocoa Flavors. Satisfies Black Tea Lovers.
Plucking Standard: Mainly One Bud With Two Leaves, Autumn,2022
Experience Chinese Tea from Different Geographical Environments.
Each tea hails from its place of origin, guaranteeing authenticity. At iTeaworld, our commitment is to provide top-quality, genuinely Chinese loose leaf teas.
One Box for Tasting 8 Different Tea Flavors.
Indulge in a box of 4 acclaimed oolong and 4 black teas, all with diverse taste experiences. Whether you're drawn to the classic notes of English breakfast or the unique smokiness of Wild Souchong, discover your favorite taste swiftly!
Why Choose Us?
1.The founder of iTeaworld is a tea lover with 20 years of experience who brings real expertise.
2.We have worked in the Chinese tea industry and tea gardens for over 15 years to ensure the quality of our teas.
3.We are innovative in offering extra tea bags for loose leaf teas, providing convenience.
4.We offer first class customer service including a 15 day refund policy.
5.We are committed to environmental sustainability and offer eco-friendly packaging
There Are More than One Way to Enjoy Pure Leaf Tea.
Tea is not limited to the traditional hot brew; it can be cold-brewed and paired with fruits too. Unleash the freedom to explore more tea-brewing methods!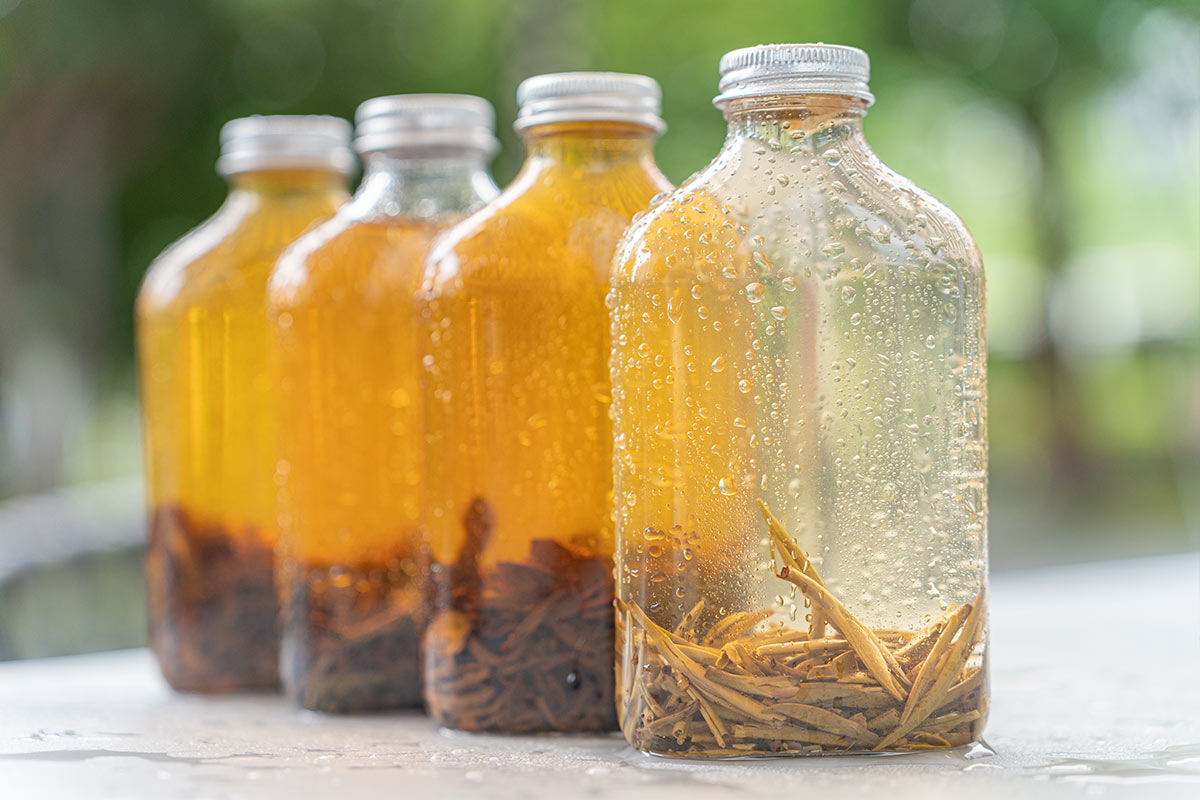 Protecting Nature, One Sip at a Time: iTeaworld's Pledge
iTeaworld is committed to sustainable development, championing eco-friendly practices and utilizing recyclable packaging. We use FSC-certified paper and soybean oil ink for our packaging, along with biodegradable corn starch for our tea bags. Additionally, iTeaworld is dedicated to safeguarding century-old trees from pest infestations.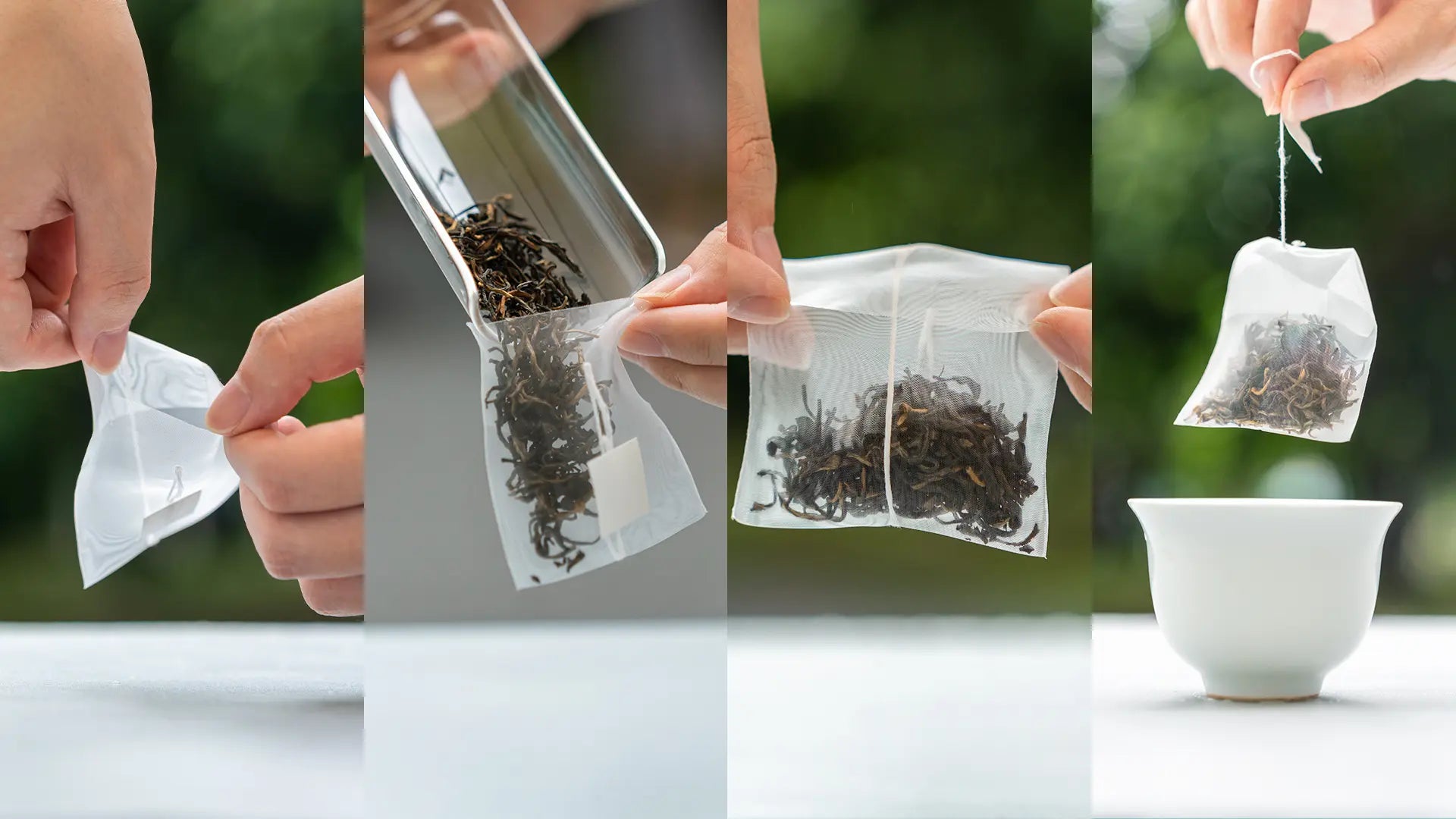 Complimentary Biodegradable Tea Bags
Complimentary Biodegradable Tea Bags – 20 Free Packs for You!
We're delighted to offer you 20 free biodegradable tea bags made from corn fiber. They're easy to use, flip the top part of the tea bag to brew. These tea bags are crafted from corn starch, safe for you, biodegradable, and environmentally friendly.
Sustainable Eco-Friendly Packaging
iTeaworld has always advocated for green and environmentally-friendly principles. We use paper certified by the Forest Stewardship Council (FSC) and soy-based inks for packaging.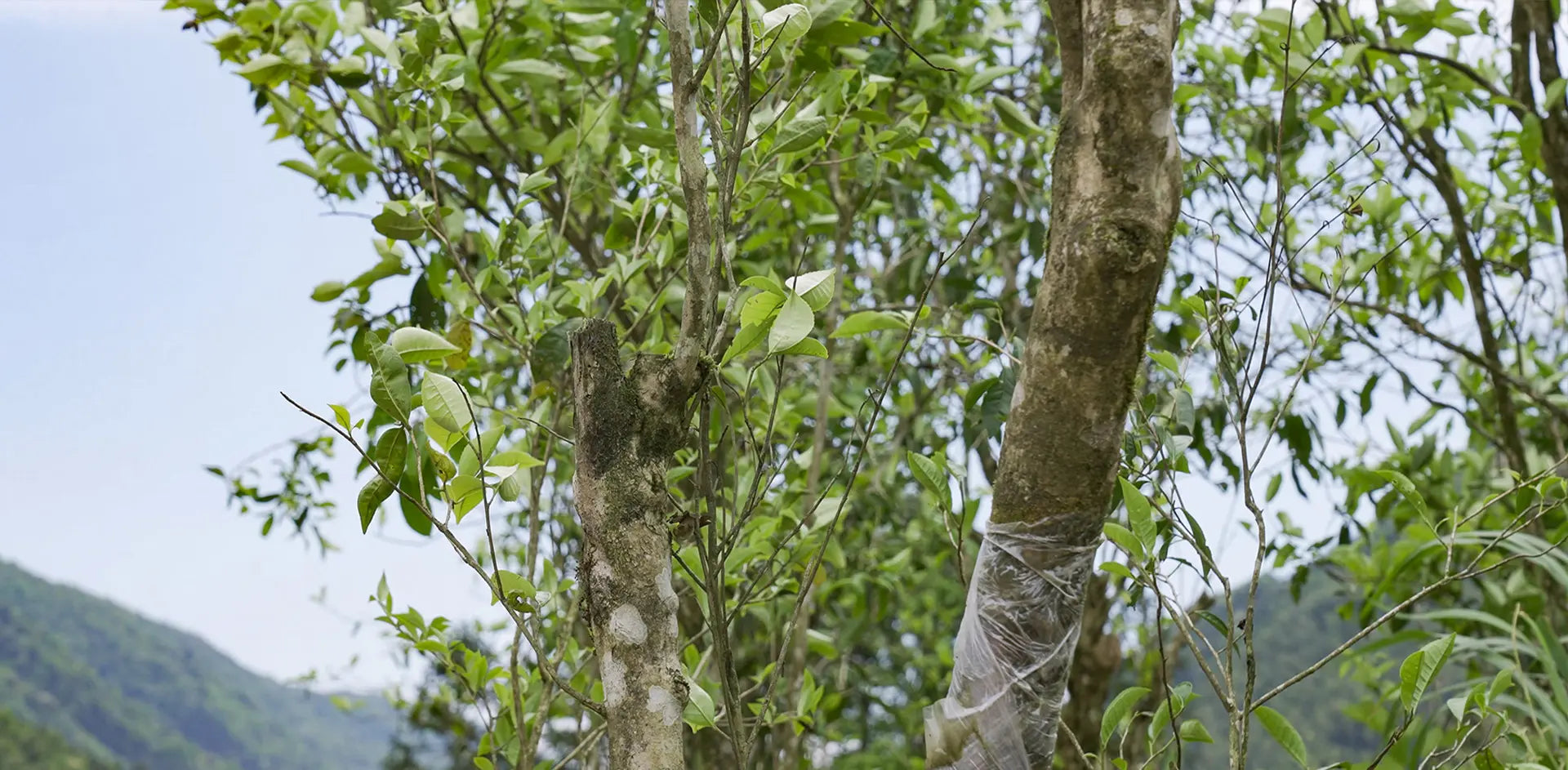 Preserving Centennial Trees: Our Commitment
Centuries-old trees facing pest damage and survival challenges. iTeaworld collaborates with Guilin Agricultural Bureau to establish conservation sanctuaries, transplanting and caring for over 3000 ancient tea trees.
Know More
Here is the key information about the 8 types of tea.
Brew It Correctly. Experience the Authentic Taste of Chinese Tea.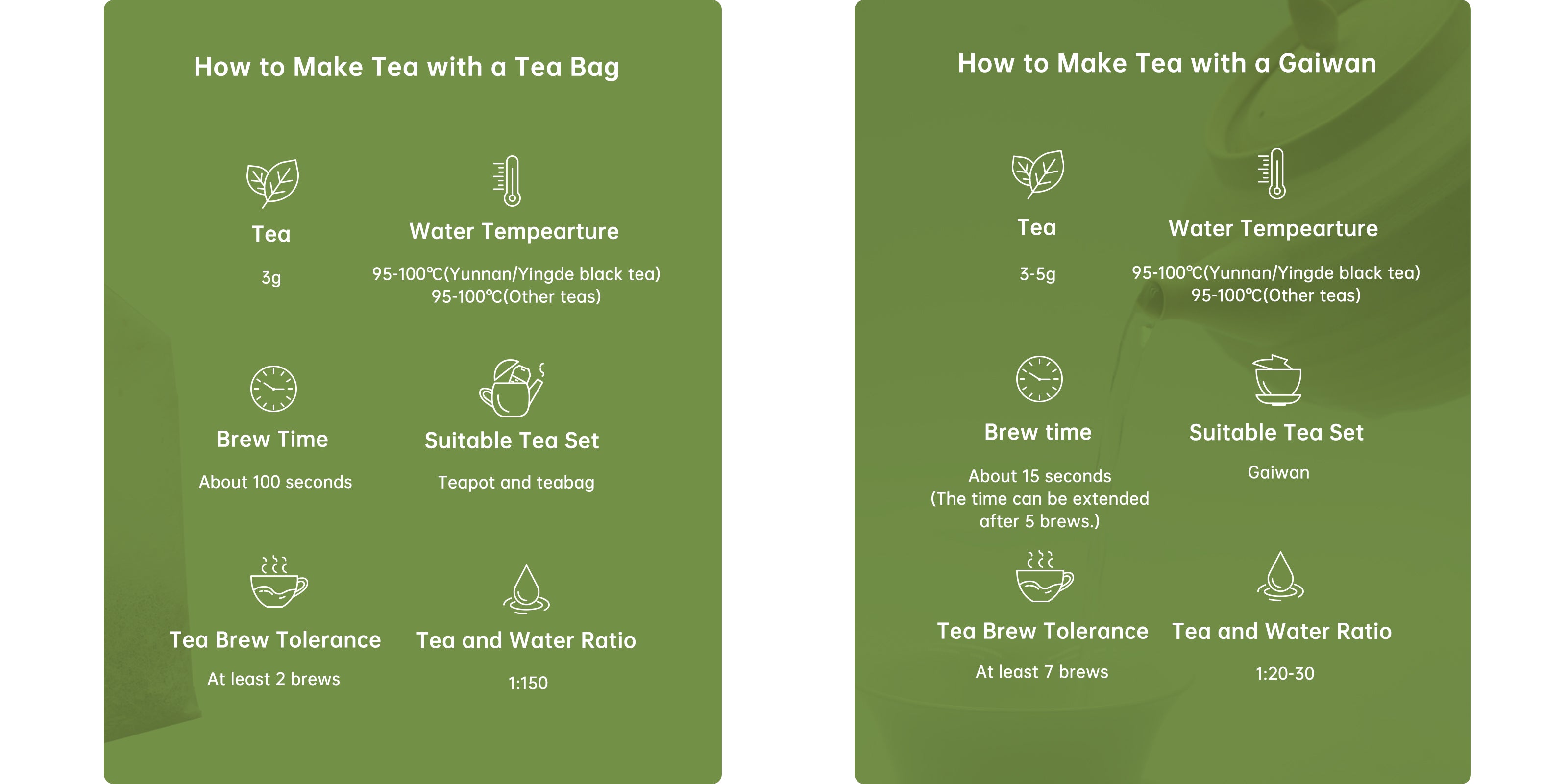 This product is rated 5.0 of 5.0 stars.
It has received 11 reviews.
16 bags = lots of cups of tea
This box of tea arrives in a beautiful heavy paperboard box, worthy of gift giving. See photo. Inside are 16 "bags" of tea. However, these aren't your normal tea bags. The leaves are larger than I'm used to with tea and they brew whole. It reminded me of a pu-erh tea cake, but prepackaged. One tea bag container can make 2-3 cups of tea, plus each measure of tea leaves (according to the instructions) can be brewed up to seven times. Now, that's more than I would ever brew tea, but a friend on a tight budget might love this. I really like that the box contains a good selection of various black and oolong teas. I started with an oolong variety. It brewed well. I did "wash" the tea for three seconds before brewing, as the instructions suggested. I don't know if it made a difference in the final product, but the tea leaves produced a lovely cup of oolong. See photo. I enjoyed this tea and am very much looking forward to working through the other 15 bags.
Delicious tea that can be multi-brewed
This collection of loose leaf oolong and black teas from ITEAWORLD is delicious. The packaging is nice enough that this would make a great gift for any fine tea lover. I'm not an expert on teas at all, but I do love a good black tea. Ooolong is my absolute favorite and the ones included here are a treat. I especially loved the Dahongpao. The Wild Souchong black tea was my least favorite but is still very good.
I brewed according to the directions on the back of each pouch, with the first very brief brew being meant to clean the tea leaves then is discarded. For some of the varieties I was able to re-brew 5 times and still get an enjoyable cup by lengthening the brew times. I kept the tea leaves in the infuser in a cool spot - not in the refrigerator - then brewed more later or the next day. That makes this collection a good value based on how many cups of tea you can enjoy from it. Highly recommended!
Perfect for tea lovers
I am extremely impressed with this tea collection. Everything about it is top notch; the quality of tea leaves, packaging, etc. I love that each tea has a unique taste different from one another.
Great quality and enjoyable
Great quality and I enjoyed trying the different teas. Impressive packaging and quick delivery time.
My favorite Oolong tea is Tie Guanyin Oolong and Minnan Narcissus Oolong.
The Lapsang Souchong black tea and Yingde tea very also very pleasing. I would definitely recommend this tea selection!
Very Pleasantly Surprised
This tea had an exceptional flavor that both my wife and I thoroughly enjoyed. After we enjoyed the first pot, I decided to brew another batch using the same tea leaves, and it turned out just as good. It crossed my mind that I could have had a few more batches from those well-used leaves, but we had already had our fill. The tea had a wonderfully smooth taste, and the subsequent batches I prepared were equally robust. It's safe to say that this tea will unquestionably become one of our preferred choices.
This product is rated 5.0 of 5.0 stars.
It has received 11 reviews.
FAQ
We Promise Provide 100% Natural Loose Leaf Tea Without Any Extra Additions. No Sugar, No Gluten.
Feel free to contact us, we are always here to answer your questions!
Support Email: support@iteaworld.com
Do You Have a Discount Right Now?

Limited time offer: We are currently offering free shipping on your first order when you sign up!
What's inside Your Classic Tea Selection Pack?

It contains 8 loose leaf teas, 4 oolong teas and 4 black teas.
All are famous Chinese teas.

Yingde Black Tea (3.5g) *2
Yunnan Black Tea (3.5g) *2
Souchong Black Tea (3.5g) *2
Wild Souchong Black Tea (3.5g) *2
Dahongpao Oolong tea(3.5g) *2
Tie Guanyin Oolong tea (3.5g) *2
Minnan Narcissus Oolong tea (3.5g) *2
Fenghuang Dancong Oolong tea (3.5g) *2
Are There Any Additives In Your Classic Tea Selection?

Our teas are completely additive free and 100% natural. No sugar, no gluten
What countries do you ship to and what is your return policy?

We support shipping to most countries in the world, including the United States, Europe, Russia, Asia and more!
Shipping time is around 5-14 business days
We support full refund if you are not satisfied within 15 days after you receive the tea, no need to return the tea.
We are confident in our teas and are happy to provide excellent customer service.