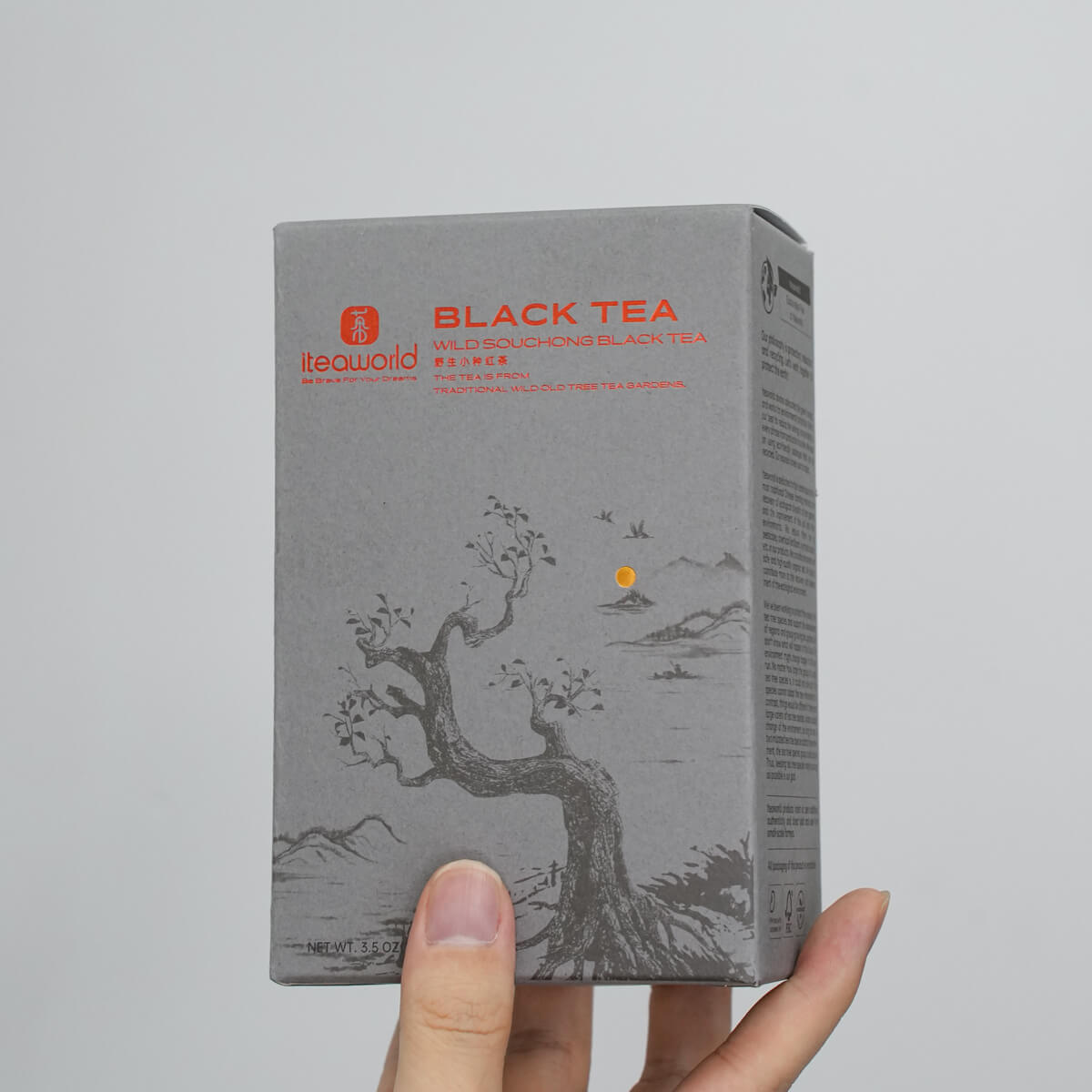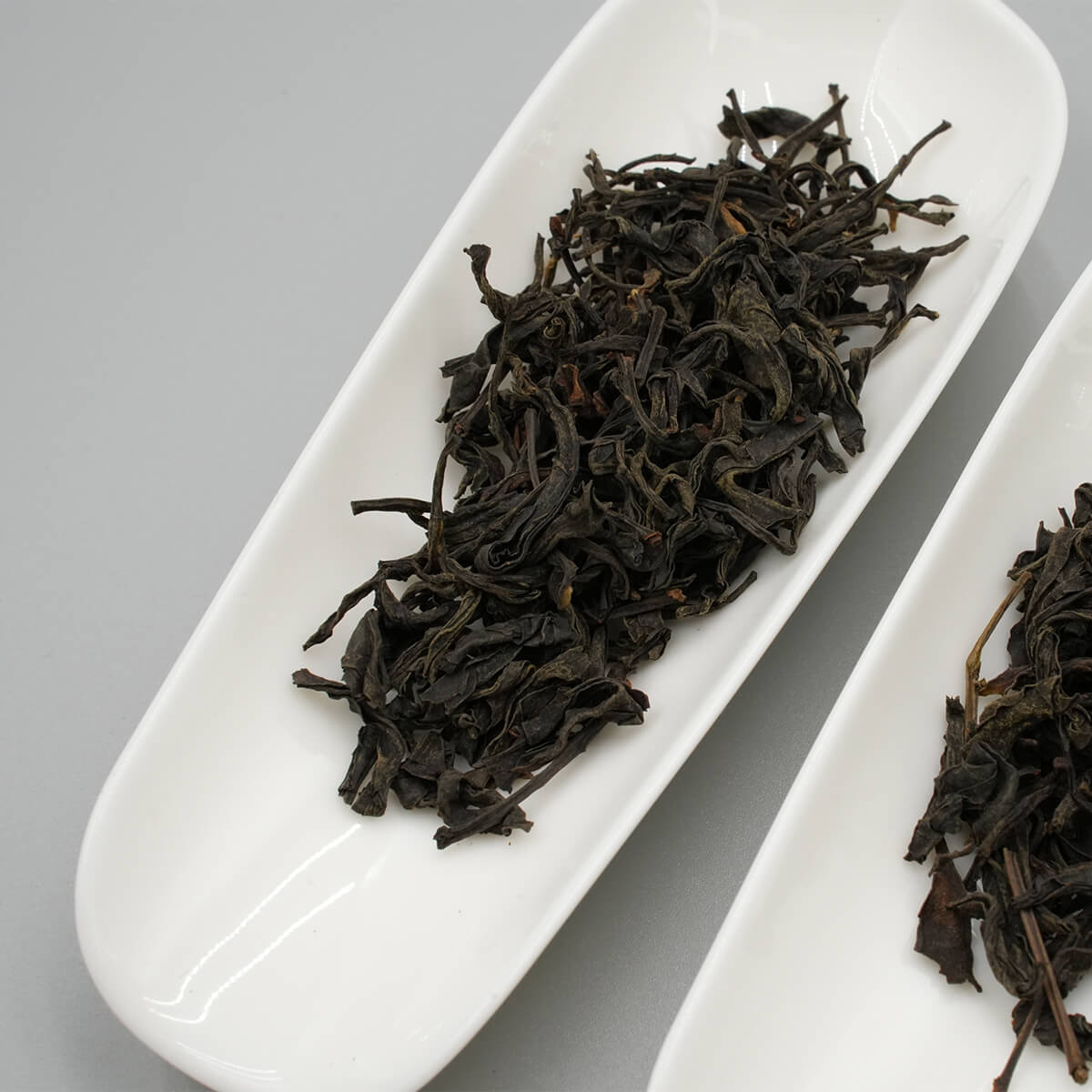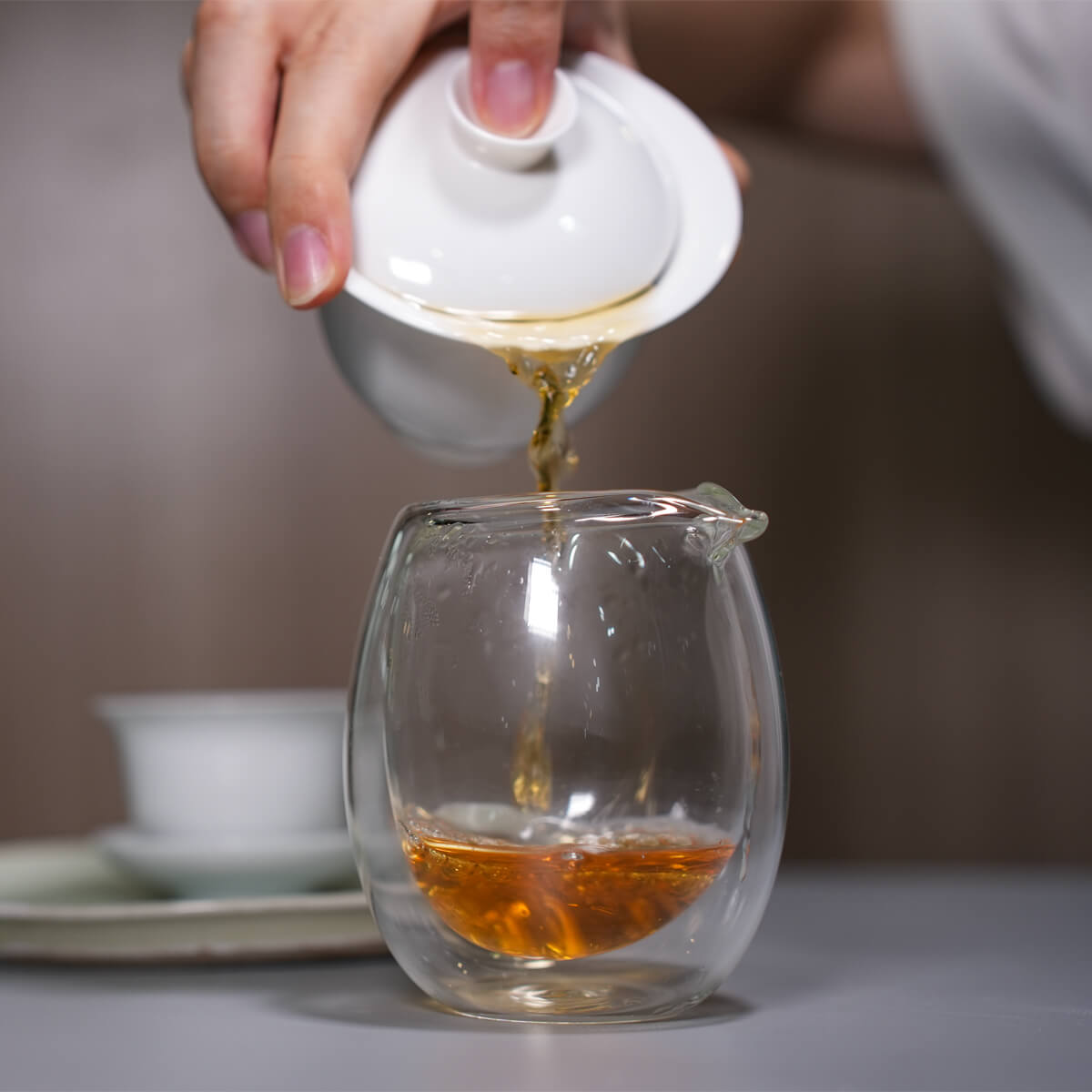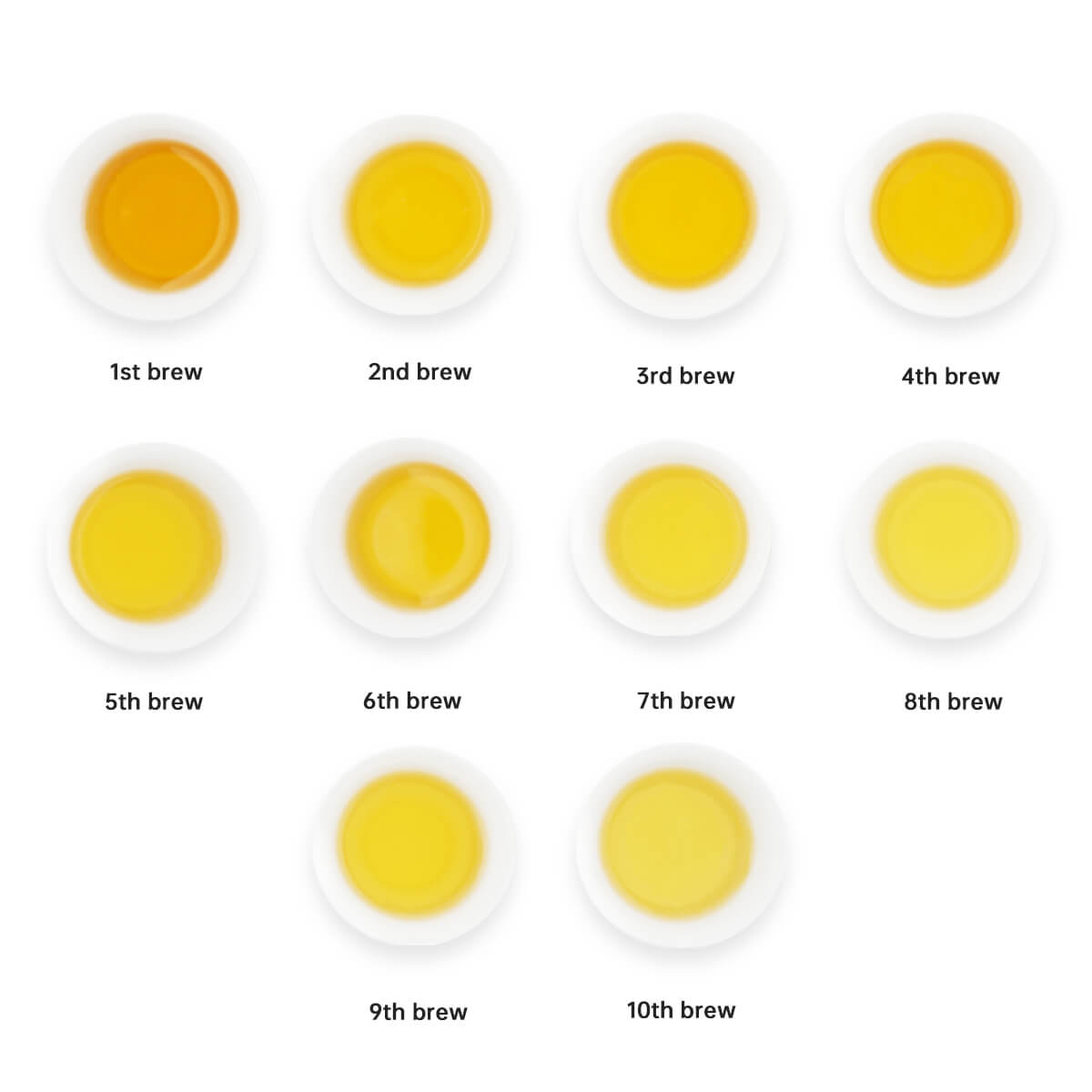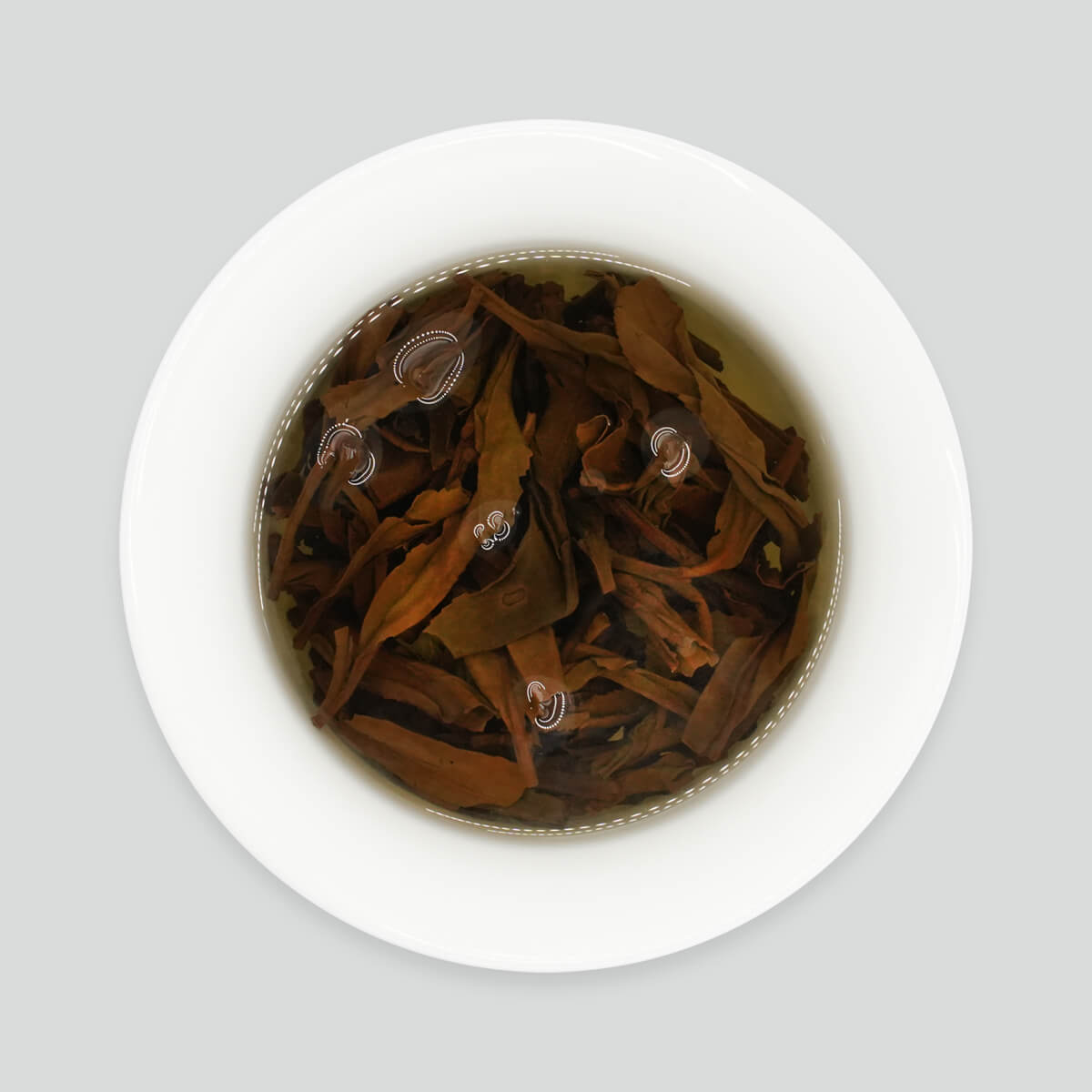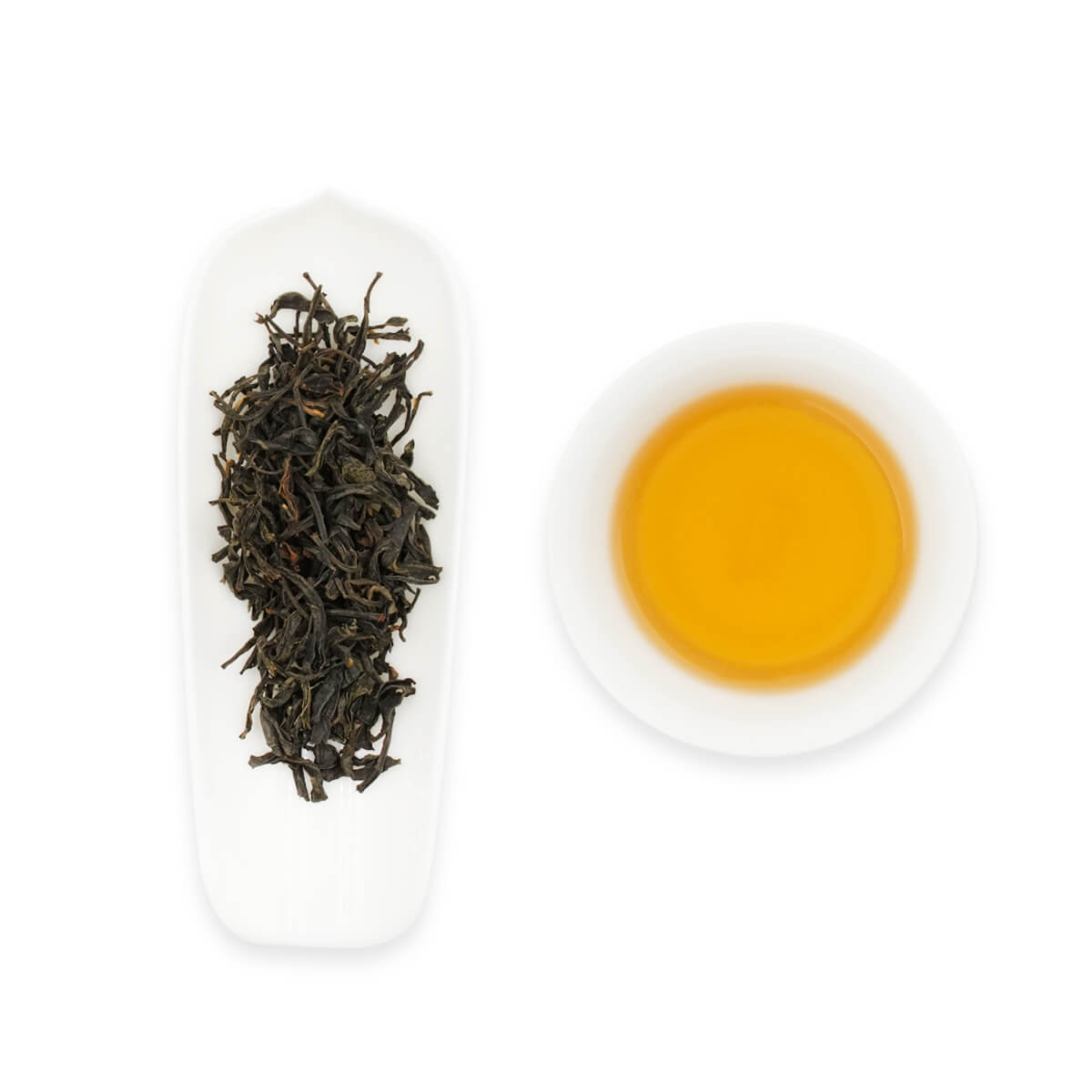 Wild Souchong Black Tea
---

Origin:
Jiangdixiang, Longsheng, Guangxi,China
Taste Note:
Smoky Aroma With Ripe Fruity Notes That Are Characteristic Of Black Tea. Flavors of Roasted Sweet Potatoes With A Smooth Texture. Will Remind You Of A Winter Campfire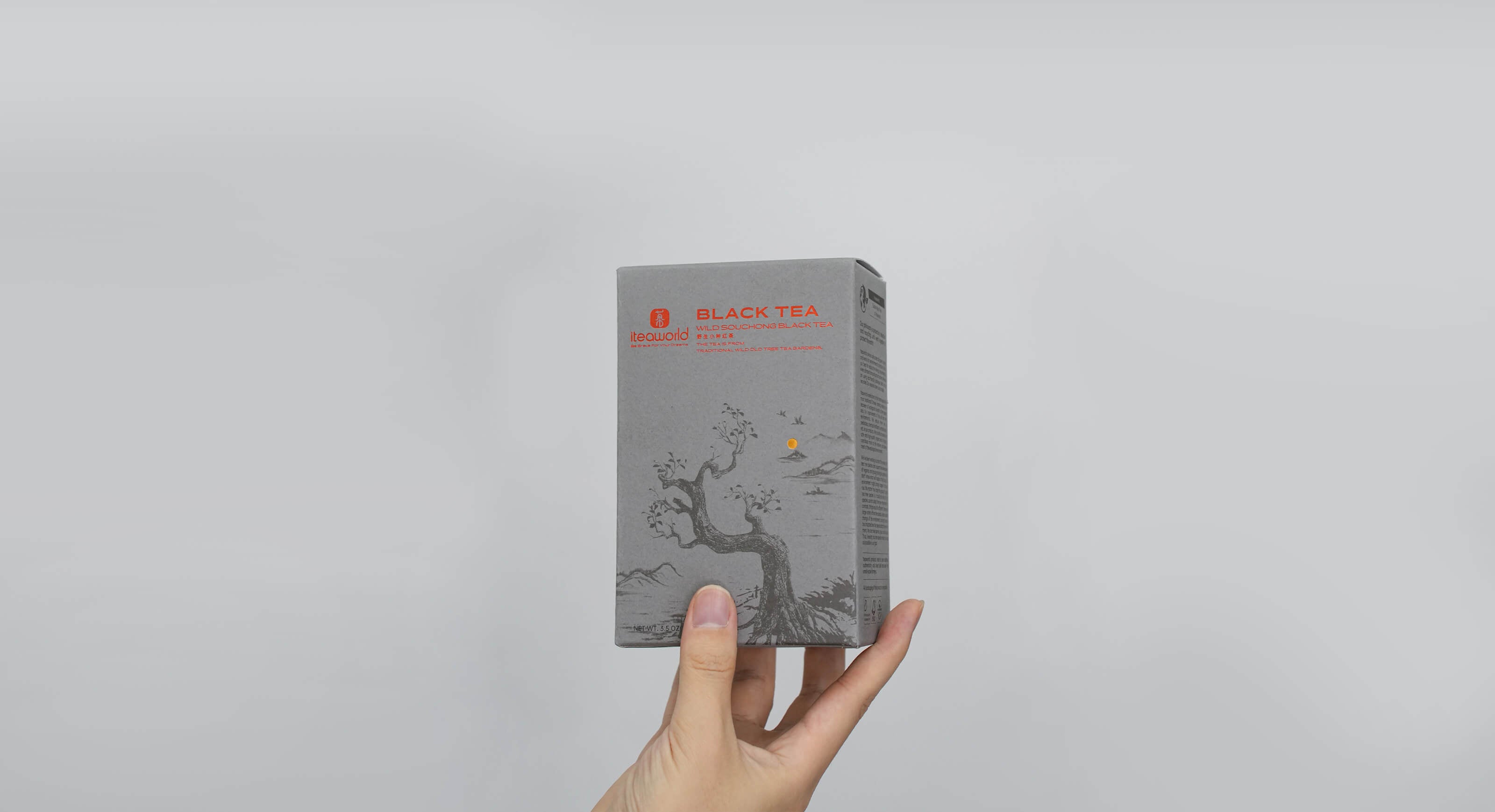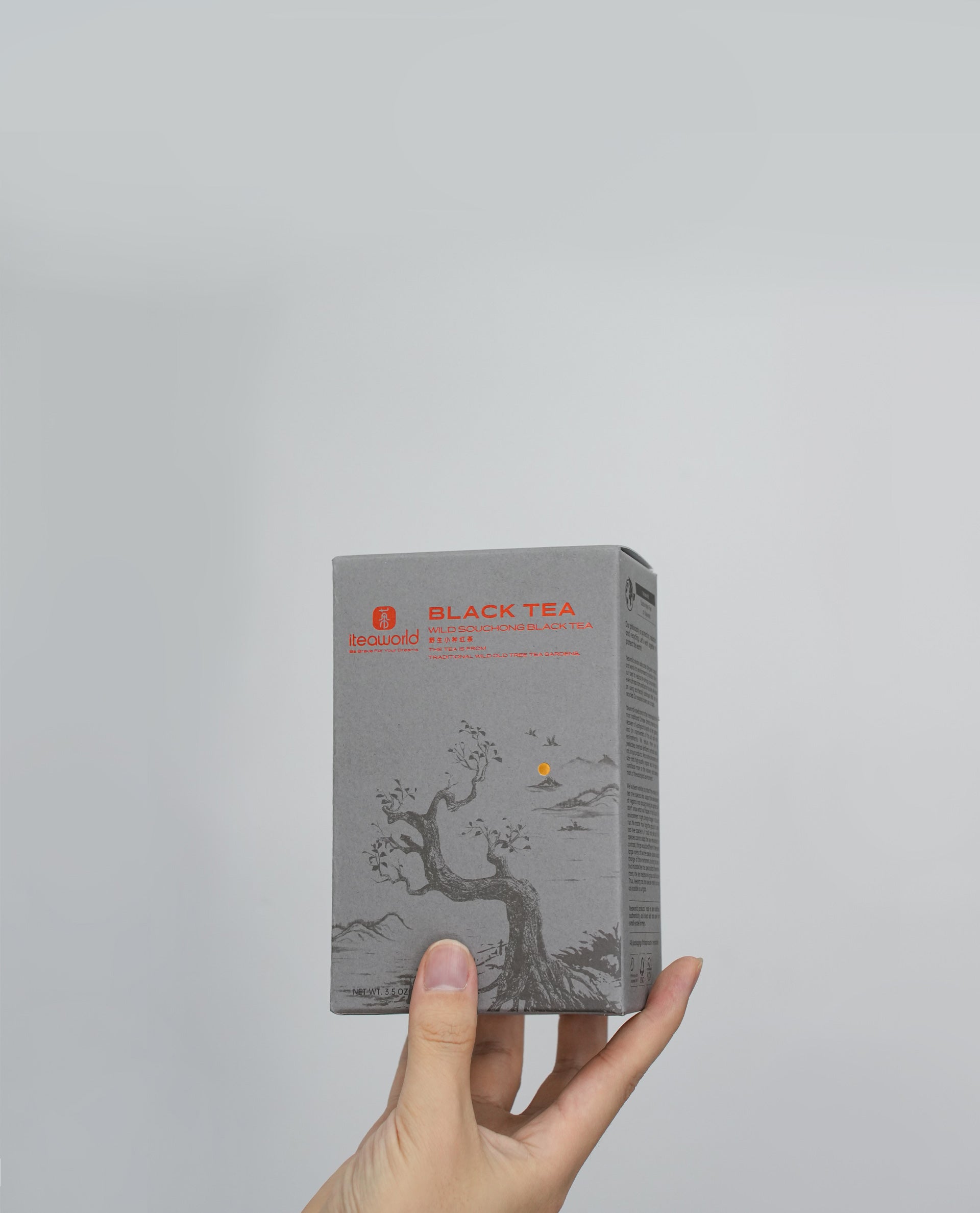 Wild Souchong Black Tea
The oldest Chinese black tea is made from the fresh leaves of wild tea trees
From the Mountains of Guangxi, Guilin at an Altitude of 800m. High Mountains Produce Quality Tea.
Wild Tea Possesses A Unique Flavor of Wildness
Wild tea is more natural. Sexually reproduced tea trees with well-developed root systems. Grow in its original ecological environment. Picked 1 flush a year.
Taste the Unique Flavors Of The Oldest Black Tea, The Aroma Of Smoky Pine And Longan
Wild Souchong Black Tea made by Traditional Pine Smoke Technique
Traditional Pine Smoke Technique
Heated with ​Chinese Red Pine in the withering phase then smoked with aged Chinese Red Pine wood in the drying phase. Unique aroma of smoky pine and longan.
Modern Charcoal Technique
No baking in the withering phase. Charcoal was used for the drying phase. Perfumy Floral Aroma, Sweet And Brisk.
Sweet After Taste, Mellow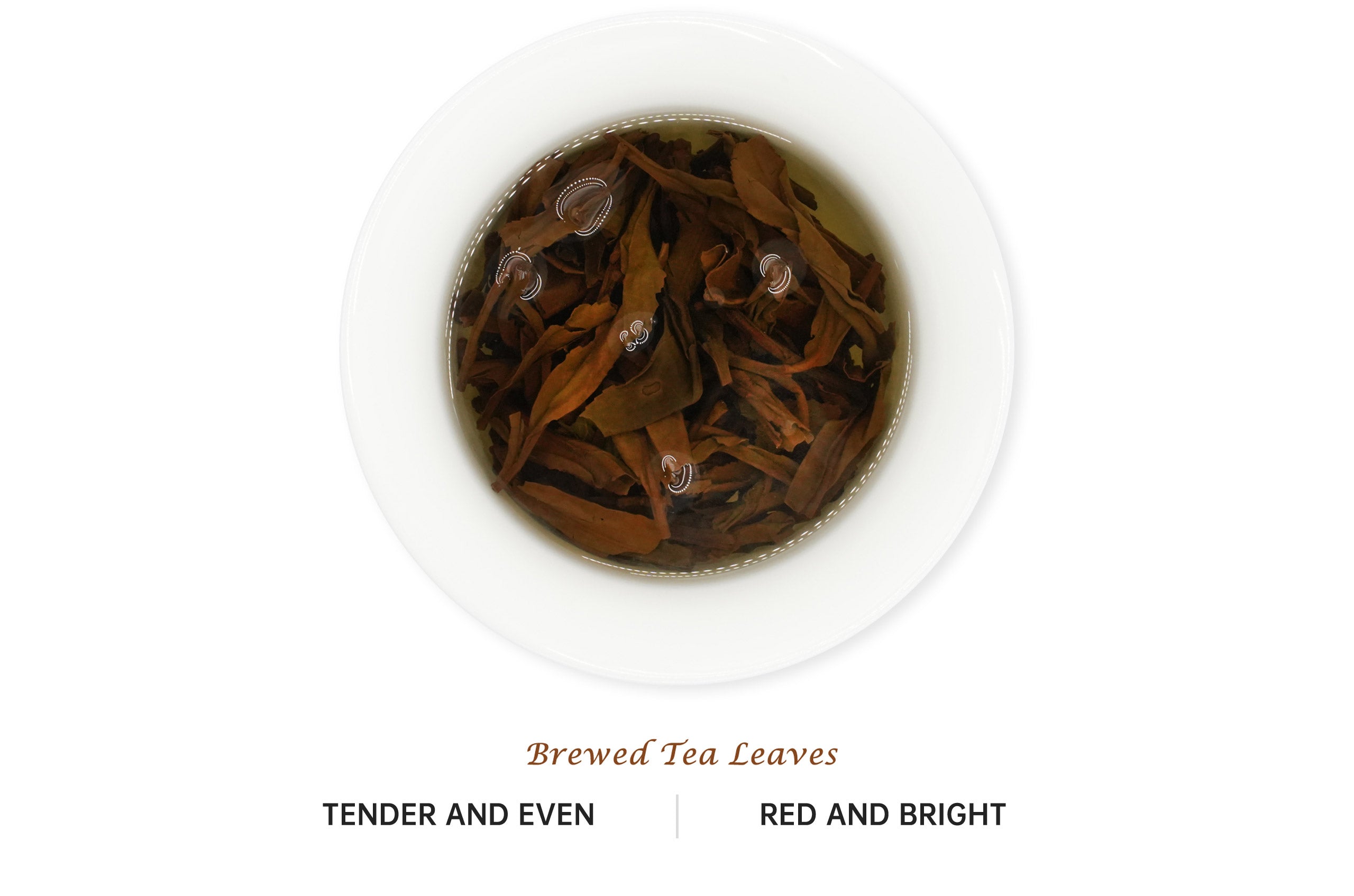 Enjoy Wild Souchong Tea
Many tea lovers claim the calming smoky flavor conjure memories of cold winter nights by the fireside.
Natural Wild Tea. The Flavor Lasts after 10 Brews
Brew It Correctly. Experience the Authentic Taste of Chinese Tea.
We Insist On Using Environmentally-friendly Packaging.
iTeaworld has always advocated for green and environmentally-friendly principles. We use paper certified by the Forest Stewardship Council (FSC) and soy-based inks for packaging.
This product is rated 5.0 of 5.0 stars.
It has received 6 reviews.
A great tea
A tightly twisted leaf with a dusty dark chocolate appearance. The aroma is slightly smoky with dry woody notes. The initial aroma instantly reminds me of sweet potatoes. Just mashed, no butter added. This is a well-made black tea. The flavor pops in your mouth and there is so much to experience. Sweet potatoes, slight campfire smoke, a tad bit of charcoal, a bit of fruit, woody tones, some compost, mossy earth... The mouthfeel is so smooth.
Different from any other black tea I have tried
This definitely has a very smokey smell but a very mild flavor. I had a friend test it who has black tea every day and has tried a LOT of different kinds. We were both worried about the flavor when the aroma was so incredibly smokey. We brewed a cup with much more than the normal amount of tea and the flavor was still light and delicate.
This is loose leaf tea. If this is your first loose leaf tea experience make sure you invest in a tea infuser or tea bags.
Wonderfully delicious and smokey wild Souchong black tea
Ive never had a wild Souchong black tea and wasnt sure what to expect, but was intrigued by the selection of tea leaves and the process in making this tea. Being the wild version of this tea means that it is sourced from trees in the forest that have not been domesticated, but are instead wild and provide a less controlled and potentially more character. It has been prepared in a more traditional way using pine wood to bake and dry the leaves, which adds a wonderful smokey flavor (like a fine Scotch).
Unlike many other teas, this teas instructions recommend a washing step of the tea leaves prior to the first steep. First you warm the cup with hot water (and then dump it out), then you add the leaves and hot water, let sit for ~3 seconds, and then dump the water. From there, you can then add new hot water and steep for 10-15 seconds to get your first cup of tea. The tea leaves will allow for subsequent steepings with increased times and slightly reducing color and flavor.
The tea comes loose in a large waxy paper bag that is folded over and uses an integral wire tie to hold it shut. The bag was not sealed, so no cutting necessary to start enjoying the tea (but this might mean its shelf life is reduced). There is also a booklet that gets into the tea itself and how it is recommended to steep it. There is an outer paper box that has a premium look to it and a fun string tie in the back that reminds me of old manila envelopes.
I found the tea to have a wonder smokey aroma and flavor to it that was not overpowering and complemented the more robust nature of the tea. The wildness of the tea leaves origin seems to have worked as this tea is wonderful and has a pleasant, well balanced character to it and it all pairs well with the more traditional preparation methods imparting that smokiness. This is a wonderful tea and one that I would recommend trying (I know Im going to keep enjoying this and likely will get the other variants to try as well).
I like it
Anybody who loves black tea with rich, complex undertones is going to love this, You can steep it strong and dark, or light and delicate. Either way, it's extraordinary.
Smokey and unique wonderful flavor
Arriving in a beautiful waxed paper container, inside is what looks to be a standard loose long leaf tea.
First sniff of the loose leaf tea lets you know this is something different. I was met with what I can only describe as a deep smokey and rich scent that almost smelled like bacon or smoked ham in a good way but many times scents do not match taste.
Luckily, after a proper steep the taste was not only smokey but deep, rich and satisfying. I was taken aback at how unique and delicious this tea truly is and I kept taking small sips just amazed at the taste and depth.
I have quaffed all types of teas so I rarely encounter a taste or profile I have not encountered on some level so I was pleasantly surprised to encounter this different and wonderful tea that managed to fuse black tea with a smokiness that was fantastic.
5/5
FAQ
We Promise Provide 100% Natural Loose Leaf Tea Without Any Extra Additions. No Sugar,No Gluten.
Feel free to contact us, we are always here to answer your questions!
Support Email: support@iteaworld.com
As a New Tea Drinker, should I choose Wild Souchong Black Tea as a start?

If you usually like something with a smoky flavor, then you can start with it
If you don't like smoky flavors, I suggest you don't try it
This is a tea with a pine smoke flavor.
What is the difference between Wild Souchong Black Tea and Souchong Black Tea?

They have the following differences:
1. the difference of tea trees.
The tea tree of Wild Souchong Black Tea is the wild tea in the deep mountains of Guangxi, artificial searching and picking, a year of picking!
Souchong Black Tea tree is the tea tree of Guangxi abandoned tea
The taste of both is similar
2. The difference between the production process
Wild Souchong Black Tea is smoked with traditional pine smoke, which has unique pine smoke and osmanthus aroma.
The Souchong Black Tea adopts modern technology, no smoking. It has floral flavor
3. The difference of oxidization degree and taste
Wild Souchong Black Tea belongs to high oxidation, soup color is red and mellow taste
Souchong Black Tea is light oxidation, soup color is golden, taste sweet and fresh
4. Tea polyphenol content
The polyphenol content of Wild Souchong Black Tea is low.
Souchong Black Tea has medium polyphenol content.
What is the shelf life and preservation method of Wild Souchong Black Tea?

Shelf life is 24 months,To keep Wild Souchong Black Tea fresh, store it in an airtight container away from direct sunlight and moisture. Proper storage will help maintain its flavor and aroma over time.
What countries do you ship to and what is your return policy?

We support shipping to most countries in the world, including the United States, Europe, Russia, Asia and more!
Shipping time is around 5-14 business days
We support full refund if you are not satisfied within 15 days after you receive the tea, no need to return the tea.
We are confident in our teas and are happy to provide excellent customer service.
This product is rated 5.0 of 5.0 stars.
It has received 6 reviews.